A visit to a construction site is a normal activity for architects, engineers, or interior designers, but rarely, if ever, for other staff members at architecture and engineering firms.
That is not the case at Sioux Falls-based TSP, a multidisciplinary architecture, engineering, planning, and interior design company.
TSP recently began a "back to basics" initiative where all members of the organization, regardless of job title, visit project sites in various stages of construction. The effort is taking place across the entire company footprint, and every team member receives a personalized hard hat, vest, and safety glasses.
After each site visit, the team returns to their respective office for social time to discuss what they experienced, what they might have picked up or learned, and how they can improve.
TSP's Sioux Falls office kicked off the initiative on Aug. 29 at the site of the Sanford Madison & Veterans Parkway Clinic in northeast Sioux Falls, where ground was broken in May. The clinic will include 34 exam rooms and five treatment/procedure rooms. Twelve providers will offer family medicine, pediatrics, outpatient physical therapy, and women's services.
The clinic will also include lab, radiology, and ultrasound services, and a Lewis Drug retail store and pharmacy will be connected to the clinic. The estimated opening date is scheduled for early 2024.
TSP's effort has the full support of Sanford Health and Fiegen Construction, the project contractor.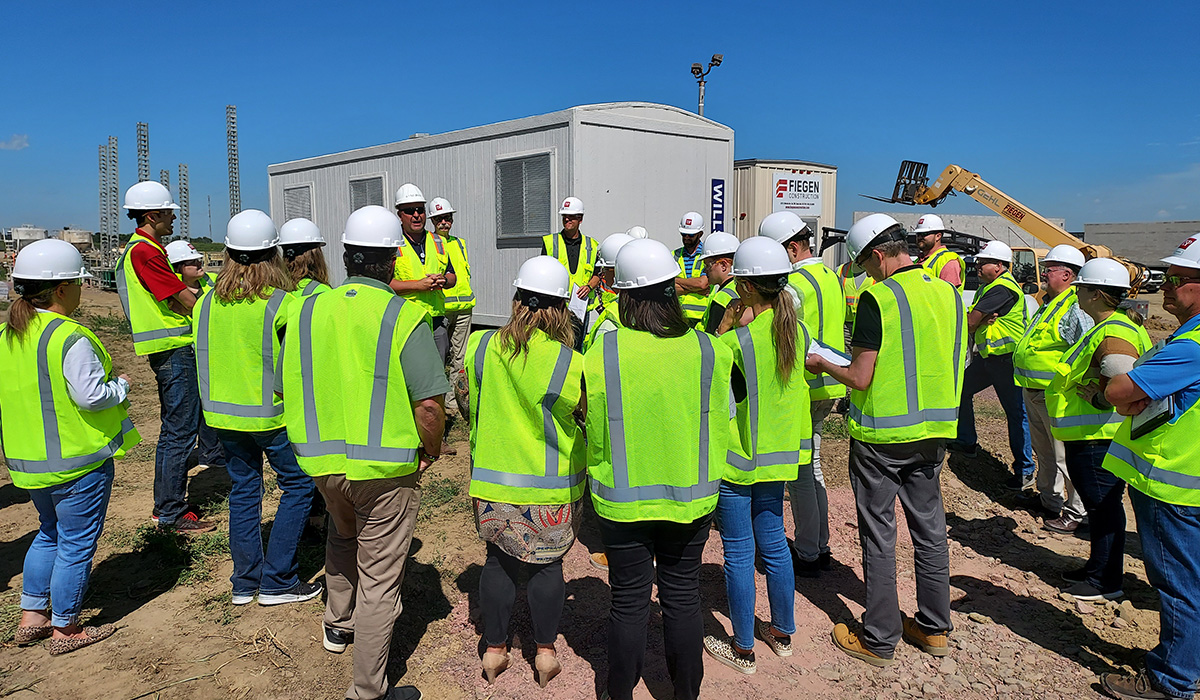 "We're going to better educate ourselves on the bones of our business," said CEO Jared Nesje. "Design is a creative element, and we need structure to support it."
Nesje sees opportunity in equipping TSP team members with construction concepts such as footings, foundations, slab conditions, grade conditions, building elevations, weatherproofing/waterproofing, and others.
And that knowledge is not reserved for architects, interior designers, and engineers, but also those who work in accounting, human resources, marketing, and administration.
"For me, it gets back to the basics which strengthens and elevates us," Nesje said. "It will emphasize the value of mentoring and supports the concept behind 'committed to our craft,' one of our core values."
In time, Nesje predicts that this initiative will result in TSP team members who are more cohesive, collaborative, and better communicators.
"But I also see that this will convey the message that our project teams will be more engaged in the construction administration phase," Nesje said. "We've got to spend our time in the construction administration phase and understand our buildings, and there's more of an awareness to what we do."
The site visits and discussion time will raise the bar by providing an environment, Nesje said, where technical staff do not fear the dreaded dumb question.
"The value will come out in various ways," Nesje said. "Staff will be on site and they'll hear something and ask a question, and the opportunity to learn collaboratively will motivate team members and what they do each day."
Project staff such as mechanical and electrical engineers who do not often visit the project site in the early stages of construction are also encouraged to prepare a quick list for those who are on site. That way, a colleague can check specific items on the list and take photos, helping to prevent potential problems – or to address them early.
After visiting the site of the future Sanford Madison & Veterans Parkway Clinic on Aug. 29, the TSP team took time to discuss their experience. A continued need to pay close attention to details, documenting with photos, and maintaining already-strong relationships with the contractor and the owner were among talking points.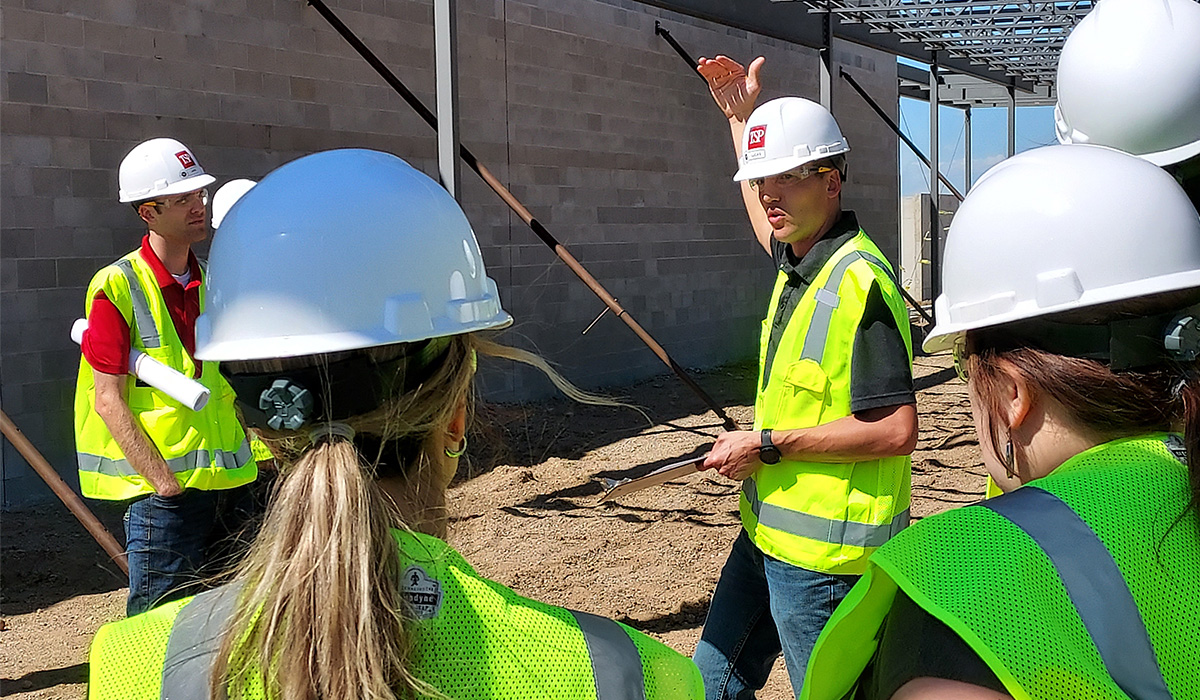 Lucas Lorenzen, a Structural Engineer, is TSP's Project Leader at the Sanford Madison & Veterans Parkway Clinic site.
"From a technical standpoint, gathering as a larger group is an opportunity to share our unique project experience, which will help us better determine specific design solutions," he said.
The initiative is intended, in part, to help administrative staff become better ambassadors for the company.
"I work on many project documents that leave our office, but I never in my 24 years with the company had the opportunity to visit a site," said Paula Reiff, TSP's Executive Assistant and Office Manager.
"I am so excited about this initiative to give our entire team a first-hand look through the progress of a project," she said. "This will really help me realize the importance of my contribution to a project and see everyone's hard work through project completion. I truly feel like part of the project team."
Controller Brenda Moore, a certified public accountant, has worked at TSP since 2007. She appreciates the opportunity to see a building come together and the numerous details involved in each step.
"I enjoyed hearing each discipline talk about the role they play, what they are reviewing at the project site, and the importance of coordinating the steps," she said. "I look forward to visiting the project throughout the different stages."
The goal of TSP's initiative is primarily internal, Nesje said, for a company already known for responsiveness, communication, and accountability.
However, the effort also demonstrates a commitment to clients and partners.
"By upping our game on the basics, the bones of our buildings, the details, we're actually going to do better work for our clients," Nesje said. "Our projects are going to be better; we're going to understand our systems and our components better, and ultimately in the end, clients are going to have a better product."