November 3, 2016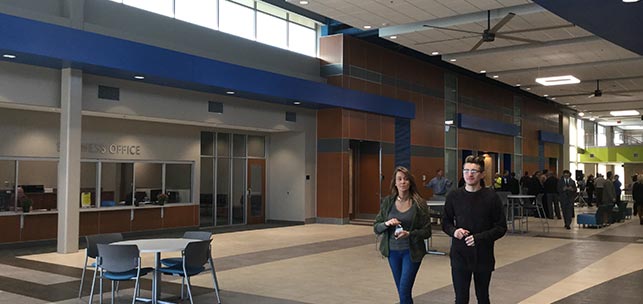 Several hundred people gathered at Southeast Tech's ribbon-cutting with the Sioux Falls Area Chamber of Commerce. That included students who took a break from their school day to be part of the event.
TSP designed the project, which includes 90,750 sf of new lab facility and 40,000 sf of additions and renovations to existing campus structures, with students and staff in mind. Southeast Technical President Bob Griggs acknowledged that in his remarks, praising our willingness to talk about the needs of those who will use the building.
The ribbon-cutting also made it clear that Southeast Tech plays a rapidly expanding role in Sioux Falls and the area. In Sioux Falls alone, 17,000 Southeast Tech alumni call the city home. And many of the 3,000 students who graduate annually plan to remain in the city after graduation. Within six months of graduation, 98 percent of those in skilled-worker industries have found employment.
That is good news for the city. Even with its lowest-in-the-nation unemployment rate, 3,000 people are looking for work, Mayor Mike Huether said. Programs offered through Southeast Tech are essential to the area.
The building is nicknamed "The Hub," and that's what it does: serve as a central location for Southeast Tech students. While the automotive and diesel lab programs take up the large space, students also will head to The Hub to use the Business Office and dine at Paavo's Pizza and a sandwich shop. The school's Foundation also is located there. Work is still progressing on a 500-seat theater that will host classes and school celebrations.
Work on the automotive-diesel lab building should be done in December 2016. Other projects, including a substantial addition/remodel to the Ed Wood Industry & Trades Building, will be finished by August 2017.