When Olivia Rud decided which college to attend, athletics and academics both factored in to her decision. The Madison High School graduate knew she wanted to play volleyball, but with plans to enter the medical field, a school that stressed its science program also was crucial.
Those goals led her to Northern State University in Aberdeen, where she redshirted her freshman season on the Wolves volleyball team. In a sense, she also redshirted her freshman science courses because Rud knew something better was coming.
"I had heard they were on the edge of building a brand-new science center, and I thought it would be incredible to go through most of my schooling at NSU in that building," Rud said. "It was a pretty big factor in my decision, actually, to know it was coming to campus.
A new era at NSU officially begins Monday, when NSU's new Jewett Regional Science Education Center opens for classes. The $25.2 million structure is the first new classroom/teaching building constructed on campus in more than 40 years. The TSP, Inc. + SmithGroup team designed the building with the Henry Carlson Co. and its sister company Kyburz-Carlson serving as contractor.
"The building is also designed to be a space students don't just come to for class.  It features a comfortable yet contemporary lobby that anchors the corner of campus along State Street and provides ample space for collaboration, including some cantilevered eye-catching 'pods' that extend from the east side of the building over the sidewalk," said TSP architect Chase Kramer.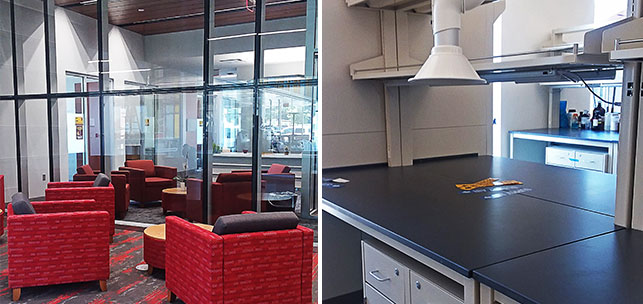 "A deliberate attempt was made to have the building be something new and contemporary for the campus, while also being something truly of NSU. While there may be contemporary details used like composite wall panels, architectural scrims, and lots of sleek curtainwall, special attention was given to the brick colors and details to tie the palette back to the rest of campus."
Rud's first year of biology classes took place in the College of Arts & Sciences' Mewaldt-Jensen building, constructed in the 1960s and not intended for science studies, said Joshua Hagen, the dean. "Some of my labs were pretty cramped," Rud said. "Underclassmen are in larger classes, so the space has been on the smaller side. It will be nice to have these big classrooms to learn and do hands-on activities in."
Before the design process began on Jewett Regional Science Education Center. TSP and NSU staff viewed buildings on other campuses, Hagen said. What NSU offers with its new science center, however, does not replicate other facilities but offered the opportunity to start from scratch.
"We had the advantage of being flexible," said Hagen, who joined NSU three years ago. "We purposely designed the building with some room to grow. The plan was not to just accommodate the current science programs and students, but where we'd be 10 to 20 years from now."
It isn't an exaggeration to predict NSU science classes will see a 50 percent increase in enrollment by 2025 or 2030, Hagen said. That will follow the path seen in the last five to 10 years, he said.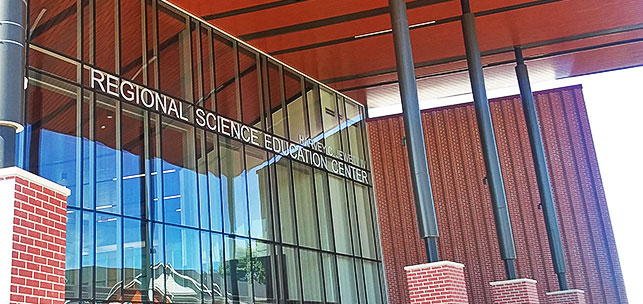 "So many science majors go into healthcare careers or careers related to the environment, and there's no reason to believe those two areas will not continue to experience significant growth," Hagen said. "We want to make sure Northern is positioned to serve students and the state."
The emphasis on serving students goes beyond those who are enrolled at NSU, said Alyssa Kiesow, biology professor, chair of Science and Mathematics, and associate dean of the College of Arts & Sciences. Next summer, NSU will start a series of summer workshops on campus offering Science, Technology, Engineering, and Mathematics (STEM) programs for middle school and high school students.
In addition, teacher workshops will offer more training in science, which Kiesow expects to spark increased participation in activities such as school science fairs. When younger students visit Jewett, they will be able to watch science labs through glass walls.
"This is for the region, not just Aberdeen," Kiesow said. "Eventually we'll have a summer institute."
Jewett Regional Science Education Center was designed to offer multiple activities and benefits that the old facility couldn't, Kiesow said. That includes laboratory preparation and research spaces on the first and second floor. Space has been earmarked for a graduate student program in future years, and technology in the classrooms will allow lectures to be captured to be watched at later date.
"There are a lot of great attributes—the list goes on and on," Kiesow said. "A faculty lounge will give instructors a place to eat rather than sitting in their offices while talking to students. That seems small, but it's big when you talk about morale for faculty and staff."
The building underwent a rigorous LEED design process, including building envelope commissioning, Kramer said. Not only will the building be efficient in terms of space needs for NSU, but it will be an extremely energy-efficient building, utilizing high-end mechanical systems, LED lighting, high-capacity wall and roof insulation, and sustainable materials throughout the facility.
Also new: an outdoor classroom space with a landscape opportunity that will give people a chance to walk through the gardens and learn about the plants growing there.
"The exterior space is designed to be instructional," Hagen said. "All sorts of native vegetation will be planted around there. We'll have pollinator gardens, specifically designed with plants that will attract bees and butterflies. What we've had before is very small compared to the size of the landscaping around the science building."
Jewett Regional Science Education Center, named after Aberdeen resident and longtime Board of Regents member Harvey Jewett, was financed through donors and community partners in Aberdeen and the wider region, Hagen said.
"It speaks to the wider connection between Northern and the community," he said. "This is something the region has really embraced.
The ribbon-cutting ceremony for Jewett Regional Science Education Center will be 3-5 p.m. Sept. 12 with the program starting at 3:30 p.m.