In 2020, everyone took a crash course in making spaces safer, more livable, and increasingly sustainable. As business owners and school administrators considered how to work within new capacity restraints, architects and engineers from TSP, Inc. designed safety-forward projects on compressed time frames required by COVID-19 relief-fund programs. Those challenges will extend into 2021. So will the innovations they helped drive in both form and function. TSP integrates planning and interior-design services as well, making the multidisciplinary firm the perfect testing ground for solving complex problems or simply exploring what-ifs with clients. A new year could be the inspiration for owners who want to refresh the look of their surroundings, update systems, or rearrange spaces in buildings.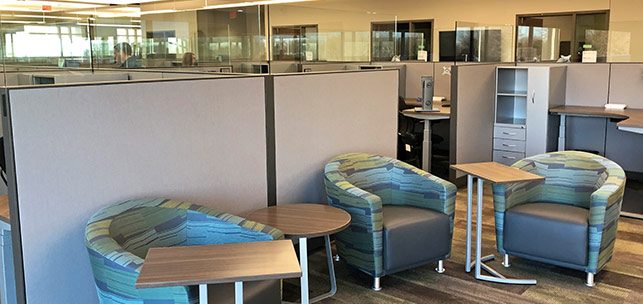 "We have to be dedicated to our profession and really push ourselves to learn the new stuff. No one's going to do it for us," said Jason Nelson, the firm's design technology director. "To give clients the best of our knowledge, we have to want to learn. Some of the applications and tech take a lot of time to research. Honestly, though, I think those things end up being the most fun in this job." Over the past 90 years, TSP's constant has been its relationships with clients and partners. The firm doesn't recommend products or systems before thorough investigation. Each team member brings a curious and open mind—along with a skeptic's ear—when something sounds too good to do everything advertised. Click on any of the five topics below to learn more about how TSP can help you plan for 2021 and beyond.
Owners are replacing inefficient lighting, security, and HVAC elements with high-performance equipment to improve employee safety and comfort. Virus-battling UV bulbs, touchless-entry access portals, and vape-sensing detectors are a few of the options.
Read More
To help clients see how all the pieces will fit together well before construction begins, TSP uses programs such as Enscape that enable true, immersive design. Another quickly advancing technology, 360-degree photography, produces increasingly high-definition images that capture even small details within a room.
Read More