October 2, 2014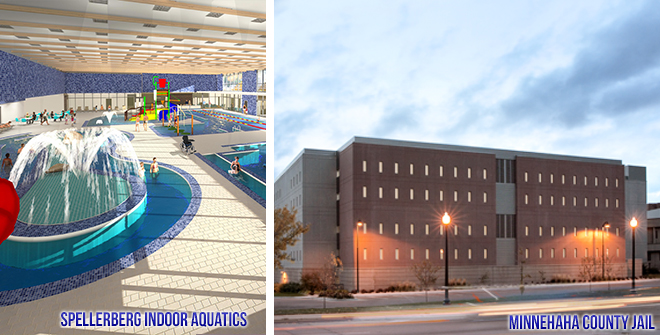 TSP-led teams will shape two new public projects in the Sioux Falls area. TSP and its partners will design the first city-owned indoor pool complex and advise county leaders as they assess future needs at the local jail facility.
The Sioux Falls City Council recently approved contracts naming TSP as lead designer for the indoor aquatic center at Spellerberg Park. The facility will replace the existing outdoor pool at the centrally located park.
"TSP is thrilled to be involved in such an important public amenity for Sioux Falls as the indoor aquatic center at Spellerberg Park," says Sean Ervin, Principal/Senior Architect at TSP. "This facility will impact our community for generations to come, and we are honored to assist the City in achieving this vision." To read more, click here.  
The Minnehaha County commission recently selected the TSP/Shive Hattery team as architectural consultants to its criminal justice advisory committee. TSP/Shive Hattery will help the committee determine an approach to address the need for new jail beds and evaluate whether the county will see greater benefit from expanding its existing jail or building a new facility.
These projects build on TSP's long history of providing innovative and efficient designs to meet City and County project needs. TSP's relationship with the City of Sioux Falls dates back to the 1930s, when founder Harold Spitznagel created the original design for City Hall, and that partnership continues with TSP's most recent renovations to that same building. TSP is proud of the projects we've supported at the Minnehaha County Jail, from a recent kitchen relocation and other operations-support work to design services for the last replacement jail project.
Other notable City and County projects include the study for the Minnehaha County Highway Department and Emergency Management Facility, as well as the joint Minnehaha County/City of Sioux Falls Siouxland Health & Human Services Center.
TSP looks forward to advancing the vision for both the City and the County.