September 1, 2015
Enhancing the patient experience has become an important priority for many hospitals and healthcare systems since the Centers for Medicare and Medicaid (CMS) began linking reimbursements to HCAHPS (Hospital Consumer Assessment of Healthcare Providers and Systems) scores. Facility and design improvements can significantly improve a patient's overall experience in your healthcare facility.
Some key areas for consideration include:
Outdoor views and exposure to natural day light
Sound control
Improved ventilation and filtration systems
Enhanced wayfinding
Technology upgrades
Sufficient space to accommodate family members
Improved efficiencies to ensure a quick response to patient needs
Square footage, design, and facility functionalities that meet your patients' varied healthcare needs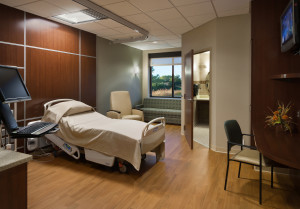 To learn more about how TSP can assist you with improving the patient experience in your facility, contact Patrick Sokol. See how the TSP Healthcare Design Studio can help you, or view the TSP Healthcare Portfolio.