January 5, 2016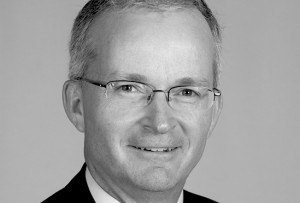 TSP team members in the Sioux Falls office gathered January 5 to congratulate Mike Jamison on his 35 years with our firm. Now a Principal and Business Development Leader, Mike started with TSP in the architectural department. He'd worked the summer of 1980 as an intern, logging most of that first month in the archive room. Gary Stanley made the call to bring Mike back over his Christmas break from the University of South Dakota. Mike stayed, and Gary—who had worked under founder Harold T. Spitznagel—encouraged Mike to pursue a career in engineering.
Mike's spent much of his time at TSP paying it forward. "He's always understood that to be successful, you have to be involved," says Managing Principal Tim Jensen.
Mike makes connecting with others look easy. The secret is pretty simple: He really means it, and people respond to that sincerity. "He's mentoring a lot of us in that art. How do we expand our own personal enterprise and push the envelope to move out of our comfort zone?" Tim says. "Mike isn't afraid to question the status quo or have that tough conversation if there's something valuable on the other side. But those questions lead to change, and that's how we grow."
You can't fake passion, and Mike wouldn't dream of trying. "It's been a great ride, a great experience, and a lot of fun. It's still fun," he says.
Mike carries some of his early TSP lessons with him every day. He learned about servant leadership at a summer party, of all places, waiting for the roasting pig's eyes to fall out. That was the sign for employees to call from one landline to another and spread the word: Come together for the meal.
"It was a good-sized crowd," Mike remembers. "[Spitznagel's partner] Wally Steele was what we'd call the managing principal. And he said to me, 'You see all those people out there? I gotta feed all of them.' When you see a man of Wally's stature and realize he feels that much responsibility to the people here, that stays with you."
ABOUT TSP
Since 1930, TSP has existed to perform fulfilling work. It's fulfilling for us because it makes our clients better at what they do. That personal connection is the very foundation of our focus on Exceptional Client Service and Outstanding Design Solutions—where form, function, economy, and culture fit simply and beautifully to fulfill the client's story. We serve clients throughout the Midwest, with offices in Marshalltown, Iowa; Marshall, Minnetonka, and Rochester, Minn.; Omaha, Neb.; Rapid City and Sioux Falls, S.D.; and Sheridan, Wyo.
Visit teamtsp.com/85 to learn more about our celebration year.