January 30, 2016
TSP believes that great education environments can help lead to better student outcomes. From the start, our educational design team saw the potential for something dynamic to happen at Webster Elementary, closed to students since 2006.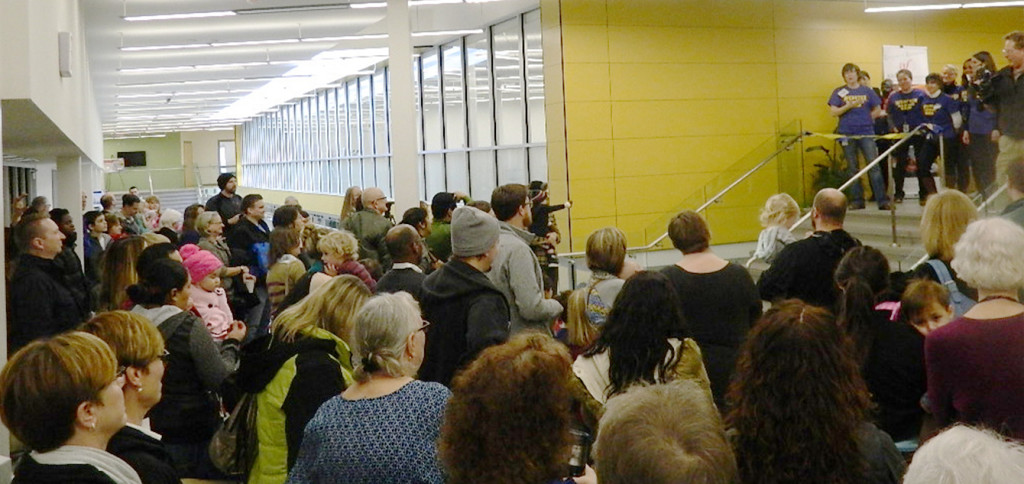 Hundreds of parents, community members, and district officials gathered January 30 to get an up-close look at Webster's dramatic transformation. Supporting partners of the event included Webster staff, the "Friends of Webster" neighborhood committee, a downtown neighborhood group, and TSP. During the open house, team members from Minneapolis Public Schools and TSP explained to visitors how the revitalized look and feel supports hands-on learning, special education, healthier eating choices, mobile technology, and 21st Century Education concepts.
Our team gutted nearly every inch of the 75,900 sf building, making the absolute best use of every nook and cranny in the triangle-shaped footprint. Senior Architect Bert Haglund led a team that included Architect Von Petersen and Senior Interior Designer Justine Pliska. Together, TSP's planners and problem-solvers gave MPS more usable space without an addition—and within the district's $16.3 million budget. Even more impressive, Donlar Construction and their team had just six months from the start of construction to ready the building for the first day of the 2015-2016 school year. Webster now is home to PK-2 students, but will add a grade each year to grow into a PK-5 during 2018.
"Webster truly is a unique education environment for the District," said Ginger Davis Kranz, the school's principal. "All the glass and daylight give it such an open feel, connecting spaces and drawing people into the life of the school. This flexible design will grow with us into the future."
The school originally was built in 1974 but closed in 2006 due to declining enrollments in central neighborhoods along the Mississippi Riverfront. The TSP team had worked in the building before, collaborating with MPS to renovate the building for District offices in 2007. But that use was short-lived, and Webster sat vacant until 2013. That's the year TSP helped District planners identify and prioritize several goals to reopen Webster as a school once again, mirroring the ebb and flow of young families in the area. The project team created a design that brings natural light into the building, improves classroom spaces, and vastly updated the kitchen/dining areas to accommodate MPS' new "Farm to School" fresh foods initiative.
As part of the strategic focus to enhance security and safety, TSP moved the main administration office to the building's re-designed entrance. Inside, the updates includes a new elevator that reaches each of Webster's three levels, a black box theater, and labs for project-based learning. To accommodate new features within the school's existing footprint, TSP's design in-filled the former media center—which was completely open to a large, central atrium. That space now contains a two-story block of rooms for hands-on learning labs and special education.  A 70-foot-long skylight and 4,640 sf of interior glass panels flood the building with daylight, helping conserve electricity and creating a more natural feel. Energy-efficient LED lighting—nearly a mile of it!—and a new HVAC system contribute to a comfortable, quality learning environment.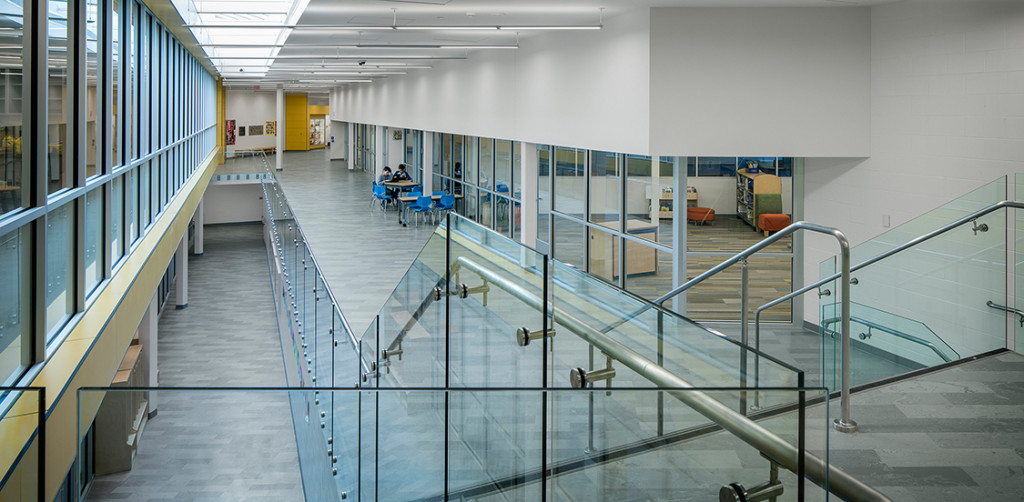 Construction bids came in under budget in a highly volatile bidding climate. This gave the District room to incorporate all desired alternatives—and still have a comfortable construction contingency. The project gained a wood gymnasium floor, rubber-tile flooring in classrooms, additional exterior windows, LED lighting, and a learning center for school and community use.
DESIGN OBJECTIVES
Identity | A clear front entry positions Webster as a hub for community activity.
Site | Parking and drop-off updates, landscaping, and clear circulation create an orderly flow through the site.
Safety & Security | Administrative offices moved to the building's front, near a larger security vestibule.
Daylighting | A central atrium skylight and additional windows in classrooms and gymnasiums all work together with interior glass panels to flood interior spaces with natural light.
Usable Space | All-new projects and art labs, special education spaces, and out-of-school-time areas replace a maze of interior, non-ADA-compliant ramps and an acoustically problematic media center.
Smart Dining | A larger kitchen with modern equipment supports the District's new dietary program standards for serving fresh foods, prepared on site.
Performance | High-efficiency LED lights and a new HVAC system reduce energy use and costs, while rubber-tile floors save on maintenance.