October 13, 2016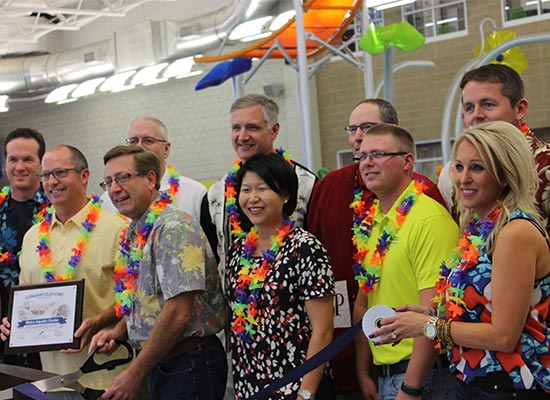 City of Sioux Falls leaders call the new Midco Aquatic Center a gift to the community's children, 60 years in the making. That's how long residents and elected officials have been talking about a public, indoor pool facility for recreation, competitive events, water therapies, and aquatic fitness programs.
The Oct. 12 ribbon-cutting was the culmination of all that work from local advocates and our own TSP team—including specialty consultants from Counsilman-Hunsaker and our construction partners from Journey Group.
Team TSP members embraced the City's request to dress for the occasion: flip-flops and board shorts, tropical-print dresses and oversized shades. Guests were greeted by City workers who handed out leis. Overhead music captured the beach feel, and fruit and pizza (a pool-party staple) waited to serve the supper-hour crowd. The gloomy evening's chill didn't even register inside, where it's summer year-round.
The Midco Aquatic Center features three pools, fully ADA accessible family changing rooms, ample standard locker rooms, party rooms, and an outdoor pad. A mezzanine overlooking the 50-meter lane pool can seat more than 500 spectators. The lobby is home to both the Dive In—a high-style concession counter—and a lounge whose built-in fireplace feature is sure to be a favorite among parents whose children ice skate or sled in Spellerberg Park this winter.
The facility officially opened at 5:30 a.m. on Oct. 13. Parks & Recreation Director Don Kearney predicted it would be the "best day ever" for kids city-wide, and particularly those who live in the central neighborhoods clustered around Spellerberg.
The Argus Leader's gallery of opening-day photos includes Mayor Mike Huether's early-morning cannonball.