October 18, 2017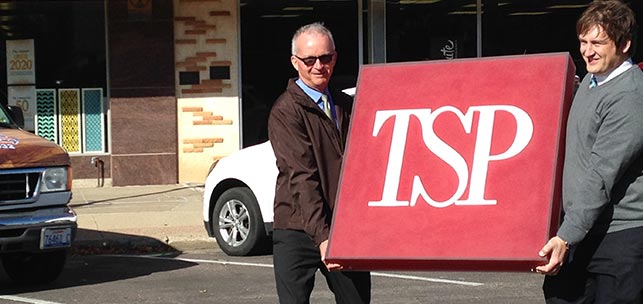 TSP, Inc, a full-service architectural, engineering and planning firm established almost 90 years ago, is expanding its presence in Watertown.
"The time is right for such an expansion," TSP CEO Jared Nesje said. "Watertown is a thriving community and home to Lake Area Technical Institute, a private health-care system, a growing school district, and multiple industries."
The firm is co-locating in an office at 20 S. Maple in downtown Watertown, sharing the space with Infrastructure Design Group, a civil-engineering firm that expanded from Sioux Falls to Watertown in October 2016. TSP and Infrastructure DG have shared space in a building in Sioux Falls for the last three years.
TSP first established a connection in South Dakota's fifth-largest city in the mid-1950s when it designed Watertown High School. Other TSP-designed buildings in Watertown include Holy Name and Immaculate Conception Catholic churches, the South Dakota Army National Guard Readiness Center, and the Watertown Events Center.
Connections with Watertown also are found among TSP team members. Project Manager and professional engineer Tadd Holt lives in Watertown and has been employed with TSP since 2000. A Watertown resident since 2005, Holt will continue working from Watertown in TSP's new office location.
A 2004 graduate of Watertown High School who also attended North Dakota State University in Fargo, architect Jason Kann has been employed with TSP since 2014. Kann, who has family in Watertown, will split time between the Sioux Falls and Watertown offices.
Mike Jamison, a Principal who works in Business Development for TSP, graduated from Lake Area Technical Institute and is a strong supporter of the school and surrounding area. Jamison has worked at TSP for more than three decades.
"Our employees have a true passion for Watertown and the surrounding area and we're excited to strengthen our presence there," Nesje said.
A ribbon-cutting with the Watertown Chamber of Commerce will be announced at a later date.