March 1, 2018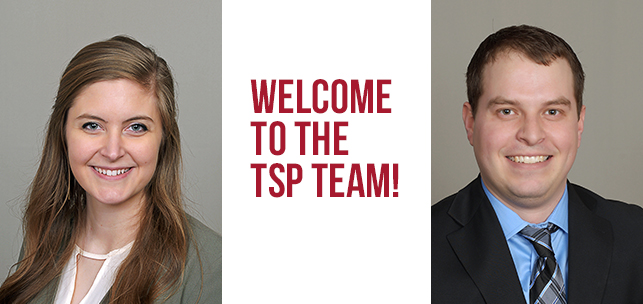 TSP welcomed two full-time staff members in February. Their diverse experiences and interests reflect a range of skills—and speak to the breadth of career opportunity within our integrated firm.
Caroline Johnson
Architecture | Interior Designer; Rochester, MN
Caroline Johnson, Assoc. IIDA, earned her Bachelor of Science in Interior Design from the University of Nebraska-Lincoln, where she was active with the Interior Design Coalition of Nebraska and the Phi Mu Sorority (Zeta Gamma Chapter). She reports to Office Leader Von Petersen and looks forward to working closely with Senior Interior Designer Loretta Haugen.
Family
Caroline met her husband, Ethan, at UNL. The couple initially moved to Rochester when he accepted a Software Developer role with IBM.
Formative Years
"I loved randomly rearranging my room, and when my parents remodeled the house, I was on top of it," Caroline says. "I was in fifth grade, but I was trying to add my input. I saw the space planning and creative side of it. I was good at math in high school—not that I wanted to pursue it as a career—and I think that's why I saw this as filling the gap between math and creative arts." Caroline grew up in Apple Valley, MN, but her parents are from Lincoln, NE. That meant many trips back and forth for holidays with grandparents and extended family. Both of Caroline's parents are UNL alums, as is an uncle who earned his architecture degree there. When Caroline expressed interest in design, he actively recruited her to join Husker Nation. Her mom gave valuable advice, too: "She told me game time is the perfect time to go grocery shopping."
Design Passion
Caroline revels in projects that allow her to show how interior planning and features can enhance the way people experience their built surroundings. "There's still a bit of a stereotype about being an interior designer—that it must be so fun to spend your day picking paint colors and pillows," she says. "There's much more to it than that. There's a reason people go to school to learn how to do this, and I love that moment when I can show a client, 'This is why you're hiring me. This is why I do what I do.' "
Caroline was the sole interior designer at her previous firm, so she was involved in a wide variety of project types. She has a personal interest in hospitality, which covers everything from convention and hotel spaces to the new way people are viewing healthcare facilities. Caroline is excited by the opportunities presented by Mayo Clinic's presence in Rochester and TSP's long history of projects for the organization. Caroline is in the process of earning her credentials to become a Certified Interior Designer in Minnesota. She's passed the first of a three-portion test administered by the National Council for Interior Design Qualification.
Life Outside Work
Caroline loves camping and the sand-volleyball matches that often come with it, though she says her husband would prefer the creature comforts of glamping. For the time being, the economics work in her favor: "We tent-camp for now, until we can get a camper."
Josh Pappel
Engineering | Mechanical Designer; Rapid City, SD
Josh Pappel returned to TSP as a full-time Mechanical Designer in Rapid City. Josh interned with us from May to September 2016, during his time as a student at South Dakota School of Mines & Technology. He graduated in 2017 with a Bachelor of Science in Mechanical Engineering. He works under the direction of Senior Mechanical Engineer Steve Tebben to support design projects and provide detailed documents.
Family
Josh is a fraternal twin. "He's my complete opposite," says Josh, who—like any good brother—can't resist a jab: "He's the tall one with blond hair and blue eyes, and I'm the good-looking one." Josh's twin and their younger brother both work for the family business, Midland Scientific. The lab-equipment distribution center has locations in multiple states and is headquartered in Omaha, where his parents live. Josh's mother holds their family's ownership share, while his father has served as CFO since 2011. Josh's aunt is the current President.
Formative Years
Josh was born and raised in Rapid City. He graduated from Stevens High School, but he grew up on the School of Mines campus, where his father was president of the SDSMT Foundation for 20 years. "I was a little kid when they broke ground to finally revamp the football stadium, and I saw the solar roller cars downtown when they were on their way through to California," Josh says. "I always knew I was going to be an engineer. My dad joked that I would go to Mines and become an engineer—and then I could do whatever I wanted."
Design Passion
Josh got a taste of project-based engineering work during his internship, and he said that was a big driver in his coming back. "Engineers solve problems," he says. "If you get a difficult enough problem and can check your work—know without a doubt you've got it—that's it, right there. When I interned here, I realized it's never going to be the same problem. It's a new one every day. It feels good to help out that way."
Josh also has experience working on a different sort of team. His internship for Schwan's Company in Marshall, MN, tested him to research the root cause of every downtime for a fully automated, lean-manufacturing production line at the ice cream plant. "They wanted it running 24 hours a day, and they could get through 250,000 to 350,000 bars in that time," Josh says. "My job was to backtrack every downtime and to a commonality so we could create a more efficient system. If we could save three hours of downtime each week, that would be a couple million dollars a year. The problem with frozen food is that you can't let it sit there or you'll have bacterial growth in every one of those 50-gallon buckets."
Life Outside Work
Josh grew up snowboarding Terry Peak in winters and hitting the lakes with friends in summers. His primary off-hours activity, though, is golfing. He played for the School of Mines' Division II team. "We get to play pretty good conferences there," Josh says. "But you know, it's an engineering school. We're mathletes, not athletes."