May 9, 2018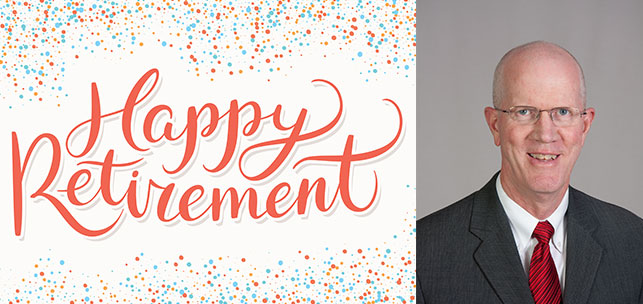 There is no "honey-do" list lurking for Paul Boerboom on Saturday—his first full day of retirement. There's no firm deadline for his planned exhibition at the EastBank Art Gallery, where he will be a member of the local cooperative.
And all of that is kind of the point. The elder of his two sons will be married in August, and it's the only date circled on his calendar. The rest will unfold in its own time, including more frequent travel to Arizona and Florida with his wife, Nancy, an educational assistant in West Central School District's special-education program.
"My first goal is to never fill out another timesheet," says Paul, who has spent 31 of his nearly 40 years in design with TSP and its legacy firms. That span includes his time with Group II Architects in his birthplace of Marshall, MN. "But my near-term goal is to produce enough artwork so I can get it on display at EastBank."
That isn't to say he's been hiding away his canvases. They've taken prizes in MasterWorks competitions, hung at the Sioux Falls Design Center, and been included in juried shows such as the annual Arts Night exhibition at the Washington Pavilion. He's even donated paintings on repurposed cabinet doors for the ReStorAtion Art Auction to benefit Habitat for Humanity.
"Somewhere along the way in your career, you realize it's nice to design beautiful buildings and win design awards, but it's what happens inside those buildings that really matters." — Paul Boerboom
Guests added their signatures to this canvas and took home cards with Paul's "Red Chair" on the front
Lifelong interest in art
Paul's love of art runs deep: He sketched as a boy and was an avid painter during his teen years. He considered a career as a fine artist but pursued a more steady path in architecture instead, earning his bachelor's degree from the University of Minnesota. His first design job was with Robert Engstrom Associates in Minneapolis, where an exceptionally skilled landscape architect helped Paul develop his natural talent.
"He was a phenomenal illustrator, and his architectural renderings were so unique," Paul says. "I learned a lot about pen-and-ink drawings in a short time." Decades of clients and colleagues have benefited from Paul's on-the-job education and his self-taught painting techniques. His hand-drawn pieces helped people envision and plan their projects, connecting them personally with the artwork and the man who created it.
A "quick little sketch" Paul put on paper recently to help him think through a design solution for the new American Indian Student Center at South Dakota State University ended up on a digital screen in front of the college's president. "He was so excited about the direction for this building when he saw it, and he responded in a way that you don't get from a computer-generated drawing," Paul says. Another current client, the pastor of Our Savior Lutheran Church in Norfolk, NE, asked Paul to sign two of his drawings prepared during the design process.
Paul returned to painting on a more regular basis only a few years ago, when two family members—themselves artists—encouraged (and prodded) him. He's averaged four or five new pieces annually, but retirement will give him great opportunities for uninterrupted studio time at his home on Wall Lake. If he needs friendly critiques, he can invite neighbors to give their opinion: Fellow Principal and Senior Electrical Engineer Tony Dwire lives nearby. So does Wayne Steinhauer, the community representative member on TSP's Board of Directors.
A methodical approach
Paul approaches each new work with the same precision that he's brought to his architectural work. First, there is research—photographs of his subjects from the natural world and the human-made pieces he often places within his scenes. Then, there are drawings. Many of them. Each iteration spools up from the last, changing a detail here, improving clarity to draw the viewer's eye there. Next come the painting studies to explore color and hue and saturation, testing his ideas on how to build the design through layers of paint. Finally, he begins the full-size work.
That methodical system has helped Paul guide clients through some unique design challenges. Among them: the Thomsen Archeodome, a building without a floor whose foundational supports and construction plan couldn't disturb artifacts hidden beneath the site's layers of earth.
Lessons learned along the way
"One of the most important lessons I've learned is that nothing happens without the client," Paul says. "Without them, we wouldn't be here. And I certainly wouldn't have these past almost 40 years to look back on." He did his best to impart that wisdom to colleagues in April, when he received the Cornerstone Medal—TSP's highest honor.
"It was overwhelming, really," Paul says of the outpouring of support as young architects and longtime teammates shared their memories during the ceremony. The experience led him to reflect on some of his most personally meaningful projects, from St. George's Catholic Church and Augustana University's Mikkelsen Library Renovation to the Minnesota State Veterans Home. Paul's own father spent the last 18 months of his life within a care facility Paul designed.
"Somewhere along the way in your career, you realize it's nice to design beautiful buildings and win design awards," says Paul, who's certainly earned his share, "but it's what happens inside those buildings that really matters."