July 6, 2018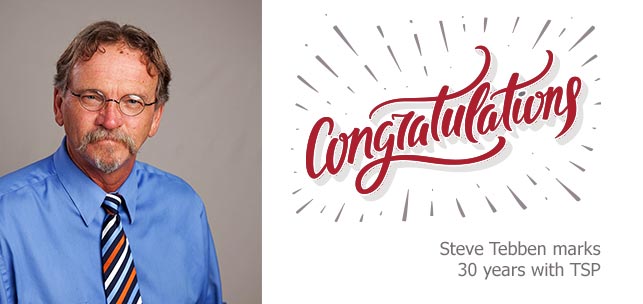 Mechanical Engineer Steve Tebben marked 30 years with TSP, Inc. on Sunday, July 1, with an official celebration on July 9.
For Steve, an interest in engineering began when he was a high school student in Sioux Falls (first at Washington, then a move to Lincoln when the brand-new high school designed by his future employer opened), but he worked elsewhere before settling in at TSP.
Steve discovered his interest in drawing while attending Washington High School and Lincoln High School in Sioux Falls. He took engineering and architectural drafting classes at both schools and knew an architect and developer, Hal Teslow, who steered Steve toward engineering. "The construction economy was in a slump at the time, but he said not to be concerned. The industry always behaved like a sine wave and would recover," Steve recalled.
After graduating from South Dakota State University in 1976, where on the advice of a former boss he had pursued mechanical engineering ("There would always be new and old buildings requiring an engineer," the man said) Steve took his first job at Wood Manufacturing in Luverne, Minn., designing animal confinement buildings, ventilation and feeding systems, hog-farrowing systems, and egg-gathering equipment for 60,000 hens. He also tested factory-built fireplace for UL compliance.
Steve then returned to Sioux Falls, joining the branch office of Dunham Associates, a Rapid City-based consulting engineering firm in 1978. After five years, Steve and electrical engineer Greg Korstad opened consulting engineering firm Korstad Tebben.
In 1988, the four-person office closed, and Steve joined TSP. "The first thing I noticed and appreciated about TSP is that as a full-service firm, all disciplines under one roof, we all had the same goal: client satisfaction. Firms that separately offer architectural and engineering services have the same goal of client satisfaction, but the underlying concept of the consultant's fee and who works for whom is always there," Steve says.
"It seems to me that a full-service firms works and collaborates to provide good design and workable situations in the full interest of the client. As a consultant, too often the engineer is directed to fit a 24-inch duct in a 12-inch ceiling space. At TSP, we are asked if the 24-inch duct could fit into a 12-inch ceiling space. After considerable laughing and sarcasm, we work out a solution. It's not a fight but a discussion with common goals.
In 2007, Steve relocated to Rapid City and helped re-establish engineering at TSP's office there. Steve and his wife, Mary, had wanted to live in the Black Hills, "but it was hard leaving Sioux Falls office with all the great people who always were willing to listen to an 'Uncle Steve' story. The Rapid City office was very welcoming, however, and made the move much easier."
The Tebbens live just outside Whitewood. They are the parents of five adult children.