February 27, 2019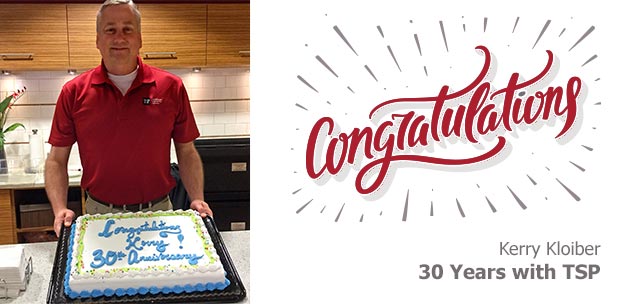 Kerry Kloiber remembers telling a former boss he was thinking about taking a job at TSP. "Oh?" his boss asked wryly. "For how long?" Kerry, who'd been working there about nine months, understood the implication: The AEC industry went through natural cycles, and staff rosters seemed to change with each big contract or loss of a client.
"I think it's permanent," Kerry answered. He was on to something. This week, he marks three decades with TSP. Or as he puts it: "Thirty years, two kids, and one grandson later."
In that time, Kerry has worked on virtually every type of project in the firm's portfolio, from hotels and banks to legal offices, government centers, zoos, and aquatic centers. He's had a hand in airport redevelopments, K-12 schools, churches, and military readiness centers. Kerry's healthcare résumé ranges from independent facilities such as Columbus Community Hospital to clinics for Rapid City Regional Health, Sanford Children's Hospital, and numerous projects for throughout the Avera system—including the complex Prairie Center on the McKennan campus in Sioux Falls.
He's worked on higher-education projects, too. His background includes University Center, Augustana University's Froiland Science Complex, and the new lab/student services "Hub" for his alma mater at Southeast Tech. Even so, it's a different recent project that still touches him on a personal level.
"The Beacom building was a big one because my son got to use that at Dakota State University during his last year," Kerry says. "(Taylor) actually appears in some of their promotional photos." The campus is tied to his daughter's story as well. Danielle met her husband at DSU while the two were students there.
The youngest of eight children, Kerry grew up near St. Joseph Cathedral in Sioux Falls. Spaced roughly two years apart, the Kloiber kids numbered two boys among six girls. Their father did auto-body work and their mother picked up part-time hours at their school to put everyone through the Catholic education system.
During Kerry's years at O'Gorman High School, a mutual friend set him up on a blind date with Lynette Hilmer. The high school sweethearts both enrolled at Southeast Tech, where Kerry pursued an Associate of Science in Architectural & Civil Design degree and Lynette majored in nursing, obtaining her LPN. They married the year after graduation. It was an exciting time, but stressful as all big beginnings are. They got a bit of help from Kerry's dad—and from unlikely hero Steve Tebben.
Acting on orders from his father, who'd spotted a job listing, Kerry applied for a position with Steve's own firm. Kerry had been working as a surveyor, but that had run its course. "I told Steve what I could do and he said, 'Well, we need an electrical draftsman,' " Kerry recalls. "So that's what I did."
The conversation went so well, Kerry added a bit of a kicker toward the end. "I told him, 'There's just one thing. I'm gonna get married in less than a month, so I'll need a few days off."
The straightforward style paid off. The job was offered and accepted; the leave, granted. That might've had something to do with a fortunate coincidence. As it turned out, Steve knew the bride-to-be—Lynette had been a Sunday school student of his, years ago. (And maybe Kerry's dad was a bit of a mastermind.)
Time, changes in the industry, and new opportunities eventually brought both Kerry and Steve back under the same company banner. Kerry helps lead from his spot on the electrical team, mentoring interns and new hires even as he learns from them.
"They're teaching me now," Kerry says. "I ask them as many questions as they ask me on some things. I don't have an engineering background. I come from the drafting world. I like design, but the drafting really is the part that I see I can pass on. Because our end product, really, still is the same. It's still that piece of paper everybody sees and the contractor depends on."
** ** ** **
At Tuesday's lunch honoring Kerry's decades with TSP, coworkers praised the electrical designer for his willingness to mentor others, his servant leadership approach, and the fact that he has kept the lights burning for 30 years—literally.
When he started at TSP, Principal and Senior Electrical Engineer Tony Dwire said, he was told the newest person in the Electrical Division was responsible for changing burned-out lightbulbs. Tony did the job for a year, then passed the chore to Kerry when he was hired. Rather than foist it off on the next new hire, Tony says, Kerry has continued to do that task himself.
That's probably an example of why Kerry never wears long sleeves, Tony said. "He's tired of rolling his sleeves up to get something done."
Principal and Senior Electrical Engineer Tim Jensen shared a list of Kerry's attributes, including his steadiness, consistency, calm manner, trustworthiness, humbleness, and a good sense of humor.
"He's somebody who lives those TSP core values," Tim said.
Steve, now in the Rapid City office, joined the luncheon via telephone. Kerry is an excellent electrical designer who has been a valuable resource to TSP, Steve said.
"I appreciate your help," Kerry told his coworkers. "Now I'm trying to learn from you guys."