November 6, 2019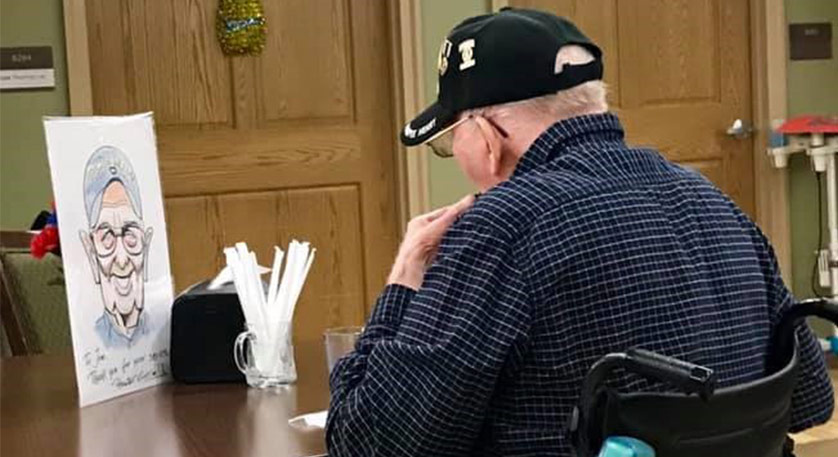 Hector Curriel didn't really know if he'd connected at all with the residents of the Michael J. Fitzmaurice South Dakota Veterans Home that he was sketching until he showed him the sheet of drawing paper.
When the elderly man saw the caricature of himself, completed with checked shirt and ball cap, a change came over his face.
"He barely was speaking," recalled Curriel. "As soon as I finished and showed his caricature, though, I could see it in his eyes. That moment was very special. That made my day."
That experience sums up why Curriel, a native of Peru who has lived in Sioux Falls since 2006, participates in programs that bring art to people. Curriel participated in the residency through a grant the South Dakota Arts Council awarded to the South Dakota Veterans Home in Hot Springs. Curriel spent a week in September working with many of the 100 veterans and their spouses who live in the facility.
The state veterans home, which was designed by TSP Inc.'s integrated team of architects, engineers, and interior designers, opened in 2016. The 100-bed facility is heavily influenced by the small-house philosophy and resident-centered approach to delivery of care. Each of the eight "households" is designed with a home-like environment. Residents have private rooms, and every household has its own entry, lounges, laundry, family-style dining room, and activity spaces.
During his residency, Curriel went from household to household engaging the residents. Superintendent Brad Richardson sat in on one of the classes Curriel conducted for larger groups of interested residents, serving as the model while the artist showed how to capture a face's distinguishing characteristics.
"He did such a wonderful job of capturing the expression of the person's true character," Richardson said. "Some of the veterans might not have known what to expect with Hector's class, but they went away all smiles after learning how to draw cartoons."
Curriel's visit left one family with an invaluable keepsake. Two days after he finished, one of the veterans he had drawn died. When the man's daughters came to the state veterans home to retrieve his belongings, Richardson pulled the caricature off the wall and presented it to them.
"They knew who it was right away," he said.
State veterans home officials bring artists in a variety of media to the facility, giving the residents a chance to write poetry and short stories, perform music, or create paintings or sculpture.
Richardson said the visiting artists have become master teachers who can tell their own stories about the residents they have met.
The state veterans home just hosted hoop dancer Starr Chief Eagle, an Oglala Lakota instructor. "She talked about history and culture and traditions, and at the end of the week did a little pow wow that brought out a lot of people," Richardson said.
Curriel estimates he spent 15 to 20 minutes with each of the state veterans home's 100 residents, veterans of World War II, Korea, and Vietnam that he considers American heroes.
"I speak with them and ask them questions about their lives and the family and if they were in an active war or just serving or training," he said. "Most of them share stories with me. It's like art therapy to work with them to open up. On the average about 30 residents pass away every year, and that fact makes me feel like what an honor it is to really have created some special moments with them."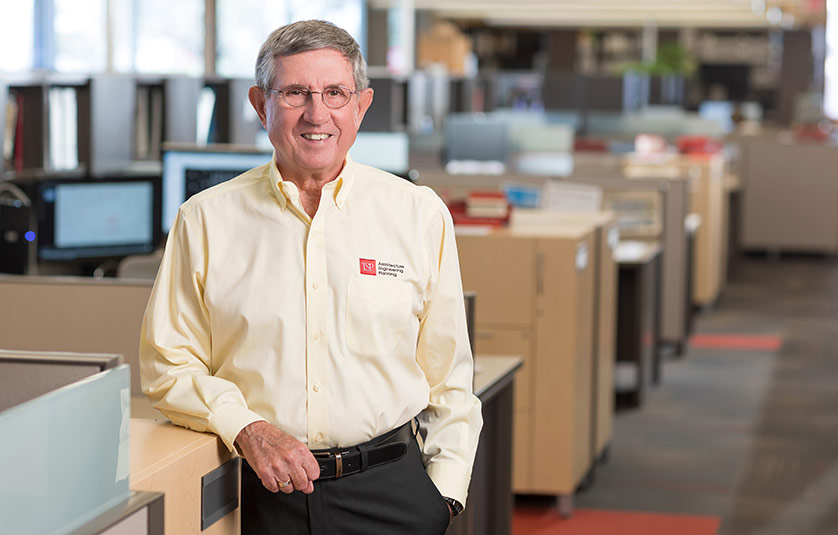 Ron Mielke, a principal with TSP and project manager for the construction of the state veterans home, is a Vietnam veteran and a retired member of the South Dakota Air National Guard. He praises the veterans home staff for giving the residents a chance to share their stories.
"It has not only a direct benefit to them but an indirect benefit to those who hear the stories," Mielke said. "You never know what kind of triggering mechanism something can be. A veteran might be willing to sort of let loose a little bit and share some things that they sort of kept hidden all these years for whatever reason."
Richardson has seen that happen not only with the artists in residence through the South Dakota Art Council but with other artists who live in the Hot Springs and Custer area. The South Dakota Arts Council is launching another program at the South Dakota Veterans Home, Art for Life, said its deputy director, Dr. Rebecca Cruse said. The veterans home staff was trained last spring and a call for artists recently was issued.
Art for Life seeks to improve the residents' physical and emotional health through intensive art and artist interaction. Art for Life activities are rooted in tradition and storytelling.
The Michael J. Fitzmaurice South Dakota Veterans Home will be the second site for this program in the state. It was piloted at an elder-care facility in Sisseton last year. Events will take place at least monthly.
The state veterans home is a beautiful building that gives veterans and their spouses a place to feel at home, Curriel said, and he hopes to return there next year. While the veterans who live there include men and women, the ratio reverses that of most care facilities, with four-fifths of the residents being men. Activities offered often feature more male-centered events such as woodworking, fishing, or rodeos, and car shows.
Art speaks to everyone, Richardson said.
"For some, they can go back in time to relive stories," he said. "For others, it's a good way for them to live in the moment, to go forward in a healing process."