A new facility in Watertown is designed to emphasize dignity and respect for individuals struggling with addiction and mental health disorders.
The Serenity Hills facility for the Human Service Agency in Watertown provides new facilities for HSA's halfway house and detox center. It also includes support space for Comprehensive Assistance With Recovery and Empowerment, or CARE, Services, which offers services for individuals with severe mental illness so they can live in their communities.
The new facility, located behind the main HSA building, brings both programs onto HSA's main campus and within a warm and welcoming building that furthers the efforts of both programs.
The Serenity Hills program offers 16 beds and a separate east wing with four behavioral health crisis stabilization safe rooms and four detox rooms.
TSP provided architectural and structural, mechanical, and electrical engineering services, along with interior design, for the 19,000-square foot facility. The building design features separate drop-off entries for each program, and the secluded location of the overall HSA campus offers added privacy for individuals using the services.
The exterior design uses traditional residential materials and forms to blend with the surrounding neighborhood, while still providing a durable and energy-efficient building enclosure.
Large heavy-timber frames anchor canopies that designate specific entries to each portion of the facility and create the strong gable shapes that tie to the surrounding residential neighborhood.
"We are really happy with it. I am so pleased with how it looks, and I love the location," said Human Service Agency executive director Kari Johnston.
Access to natural light is among the amenities Johnston appreciates because of the role it plays in a holistic healing environment.
"I love how TSP designed the different group rooms and our solarium that provides a serene setting for people to utilize when they need to have some downtime," she said.
"It teaches them how to self-soothe."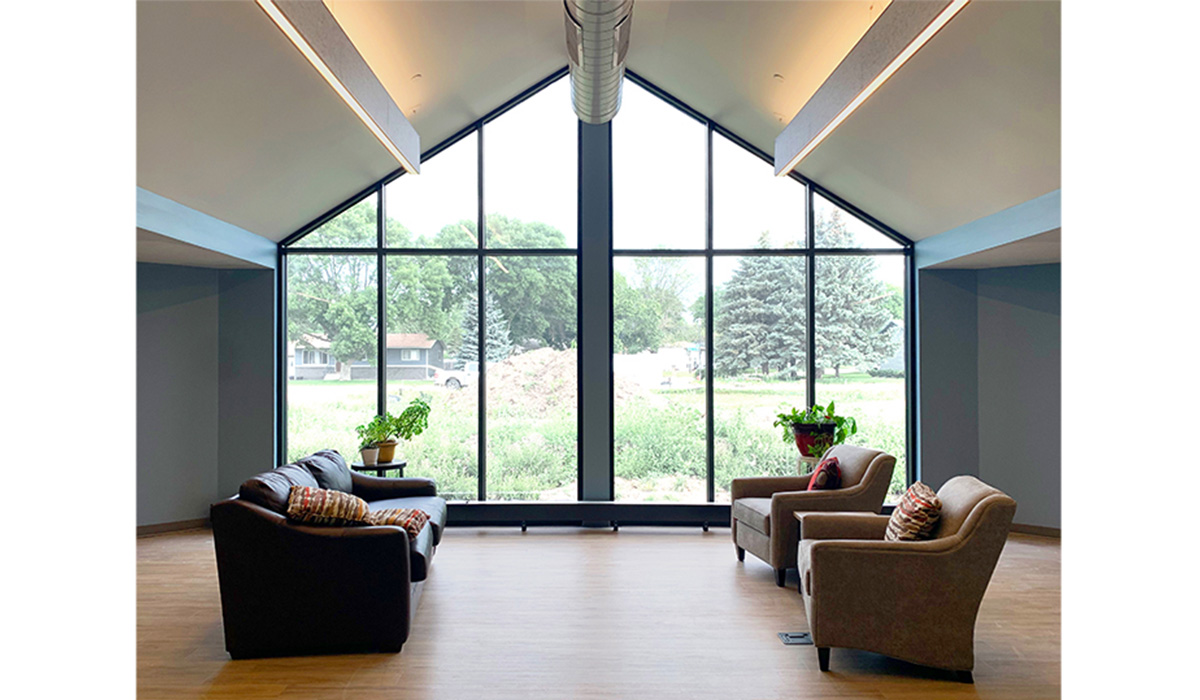 The crisis stabilization safe rooms are also among the new features in which Johnston sees great benefit.
"In the past, we've had to hold people who were experiencing a mental health crisis in jail," Johnston said.
"And jail is not a great place for people to stay when they are in crisis."
The safe rooms are designed to ensure that no one can hurt themselves while providing a softer, less-intimidating setting, Johnston said.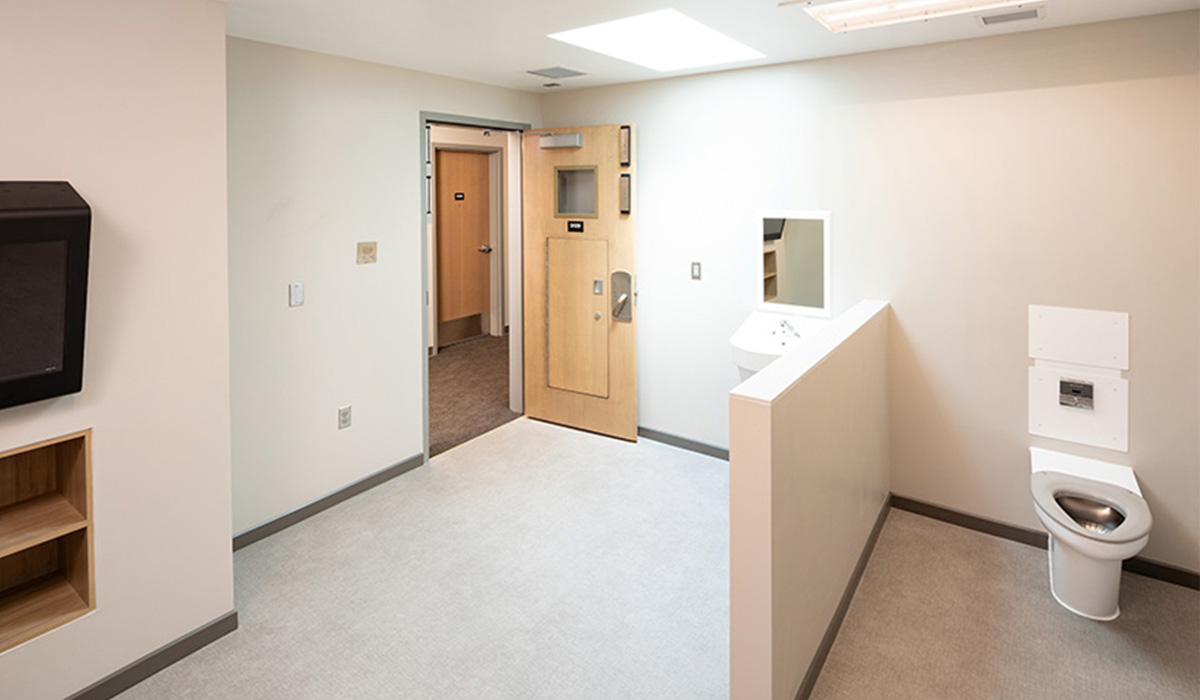 TSP architect Chase Kramer enjoyed the opportunity to reimagine how a halfway house could create a sense of community, instead of simply treating it like a multifamily project and designing a series of resident rooms along a double-loaded corridor.
Kramer noted that the unique project included a mix of residential, health care, and office elements. This made it a fun challenge to combine different function types into a cohesive building.
"Both TSP and HSA got to learn together, especially regarding the oversight and nuances required for the safe rooms," he said.
Kramer is happy with the work that took place to blend the institutional aspects needed for such a space with more personal touches like natural daylighting, entertainment, and modesty.
"That's the best when the client and designer are looking at a new problem and each coming at it with their different but mutually beneficial perspectives," he said.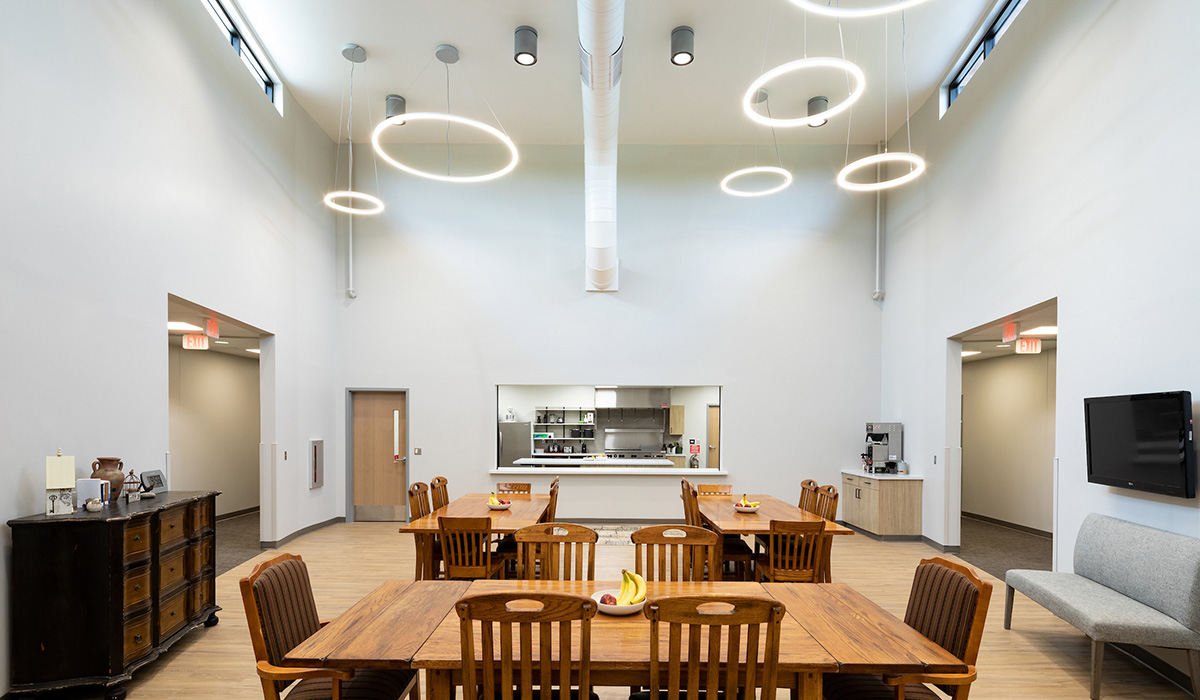 TSP principal and structural engineer Tadd Holt credits the success of the project to trust that was established at the start of the design process.
"They were very forthcoming in telling us what they liked and what they needed, to help us understand how they function and how they work," he said.
"In turn, we were able to help them put together a building and get it constructed. I think it turned out really well."
Although Johnston said the facility was the first major building project of her career, the support she received kept worries to a minimum.
"The entire TSP team was so helpful from the very beginning," she said.
The $7.7 million facility was funded through a combination of state and private organizational donations.
Grey Construction Co. was the general contractor for the project.
Exterior HSA ribbon-cutting image courtesy of the Watertown Area Chamber of Commerce.