September 4, 2015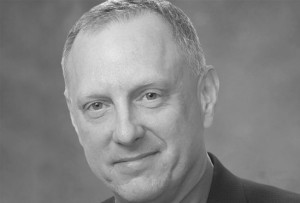 This month, Steve Sorensen celebrates 45 years with the company he's helped build, develop, and lead. In that time, he's worked on more than 2,000 projects, ranging from schools and nursing homes to law enforcement centers and civic gathering places. Among them is one of TSP's largest projects: the Mayo Civic Center expansion (view a live project webcam).
As Managing Principal of the Rochester office, Steve helps shape the firm's direction in our Eastern Region and mentors new talent. He's been an active player in the local business community since his early years at TSP. Steve has seen the industry change from within, beginning with drawings by hand and carrying through into CAD, Revit, and the huge number of drawing sheets now generated to capture each minute detail.
Steve's deep understanding of the design process benefits TSP as a whole. So do his long-term client relationships. He supports the Chamber of Commerce and Rotary organizations, making personal connections with other local decision-makers. He worked on the design of the original Rochester Recreation Center and several other major projects along the way. Now, he's overseeing a $23 million renovation and the addition of a new Senior Center that will transform the city-owned campus.
A flagship downtown destination is another highlight in Steve's career. For the past decade, he's worked tirelessly to coordinate concepts and funding for the current Mayo Civic Center expansion. With a $71 million construction cost, the project will nearly double the complex's size and includes enhancements that go beyond the "North Expansion," completed in 2001. Construction dollars and resources to re-design significant components were approved only last year. A groundbreaking was held in mid-March and Steve and his team, will see the work through 2017.
Congratulations Steve and thanks for your 45 years of service.
About TSP
TSP is a fast-paced, full-service design firm that successfully integrates architecture, engineering, interior design, and planning. Since 1930, TSP has been discovering facility design solutions that truly match the vision and mission of our clients. Our collaborative approach explores opportunities, addresses concerns, and defines design to achieve goals that create a balance between function and form. TSP is passionate about design and even more passionate about our clients. The firm serves clients throughout the Midwest, with offices in Marshalltown, Iowa; Marshall, Minnetonka, and Rochester, Minn.; Omaha, Neb.; Rapid City and Sioux Falls, S.D.; and Sheridan, Wyo.