December 16, 2015
Harold "Spitz" Spitznagel couldn't have been anyone else, and there was no sense trying. He believed in relationships, and he knew how to make others feel valued. Combined with his work ethic and considerable design talent, this personal touch transformed business partnerships into longtime friendships.
To celebrate those connections early in his practice, Spitz started a tradition of creating original Christmas cards for clients and friends. Later, he'd also publish a yearly calendar to give at year's end.
This vintage greeting dates to Christmas 1931. It was lean times in the wake of the Wall Street Crash of 1929, and Spitz was supporting his young family with a fledgling architecture practice.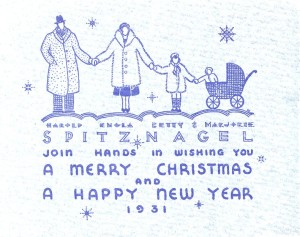 This image is taken from the Architectural Alumni Graphics Collection of Franklin Spencer Roach and Hannah Bender Roach, held at the University of Pennsylvania—Spitz's alma mater.
Spiznagel's archives are housed within the Northwest Architectural Archives at the University of Minnesota Libraries. The Harold Spitznagel Papers comprise a collection of final drawings, working drawings, and renderings; photographs and specifications; and newspaper, magazine, and professional journal clippings related to his life and work. TSP donated the papers to the University in March 1974.