June 28, 2016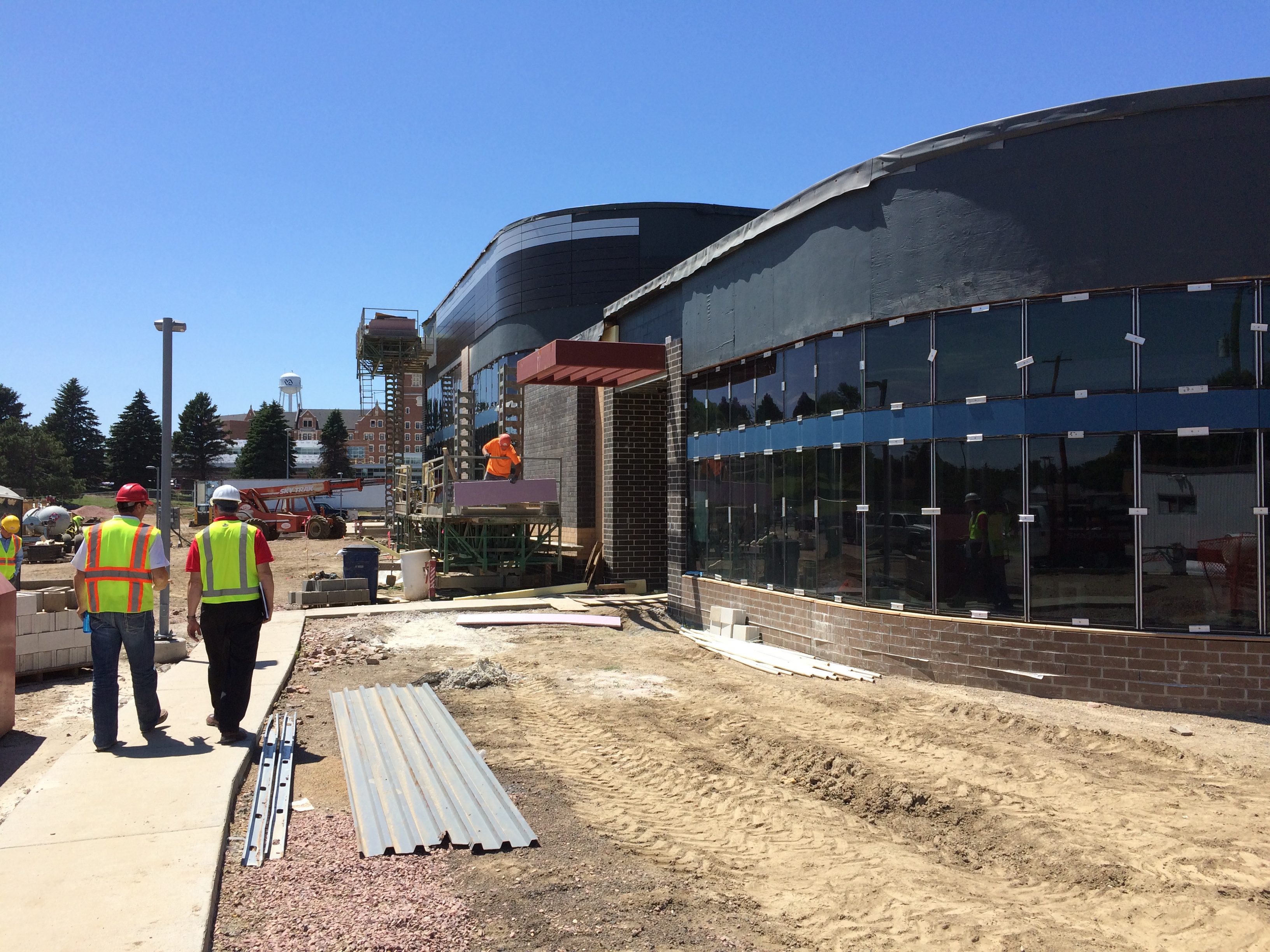 When the weather turns cold later this year, Sioux Falls residents will be able to use their City swim passes to warm up with a dip in the pool. Community members got a sneak peek at Midco Aquatic Center's progress in late June, during an open-house event with tours led by TSP architects and partners from Sioux Falls Construction. Those eager to see the rest of the building take shape can watch up-to-the-moment work via the City's live webcam.
The building's exterior is nearly finished, with most of the south wall's windows already installed. Indoors, concrete pool decks define the shape of several features grouped in a common area for recreational swimmers. And the separate, 50-meter competition pool already has passed its no-leaks test.
Spellerberg's new indoor facility will include a 5,739 sf recreational pool with a zero-depth entrance, a 15-foot water slide, adjoining lap lanes, a current channel, water sprays along the perimeter, and a play structure for younger children. Based on community feedback, TSP designers increased the integrated therapy pool to a depth of 5 feet. This allows greater use for rehabilitation patients from area health systems.
A separate room houses the competition pool, which will host meets organized by local swim clubs and universities alike. A mezzanine level will afford spectators an overhead view of the 12,932 sf pool during events. Offices, a lifeguard room, and locker rooms will be accessible from both the recreation and competition areas.
Outside, a splash pad will give visitors a quick way to cool off on hot days. Nearly 80 trees will be planted, along with other landscaping improvements that honor the park's history as a community gathering place. The park will get new courts for tennis, basketball, and sand volleyball―plus a new picnic shelter, playground equipment, and updated restroom facilities.
TSP's design team includes specialty pool consultants from Counsilman-Hunsaker and Associates.  Local voters supported City plans for its first indoor aquatic center by passing a ballot question in April 2014, and construction started in April 2015.