January 22, 2018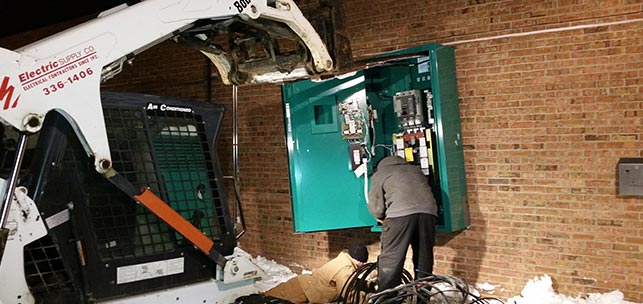 When you're at home and the power goes out, you may light candles and pile additional blankets on the bed. Such remedies, however, are of little value to a place of business. Something larger and more efficient like a generator is needed in that situation. But does it always make sense — practically and financially — to invest in an emergency-power backup?
According to Darrell Bren, senior electrical engineer and electrical discipline lead at TSP Inc., "That's probably the million-dollar question" for a business to answer, whether it is pursuing a new facility or upgrading its current building.
Bren, an associate with TSP, said his own firm found itself asking and answering that question several years ago when the decision was made to install a generator at its Sioux Falls office. The company was founded in South Dakota's largest city in 1930. It has expanded over the years into Wyoming, Minnesota, Iowa, Nebraska and elsewhere in South Dakota, but its network server for the company computer system is located in Sioux Falls. The current trend in technology for multiple-location companies is to install one set of main servers in one office and have the other offices run off of them. All offices are using the same, up-to-date information then.
If the TSP Sioux Falls office experiences a problem, it will affect the seven other offices, Bren noted.
"TSP didn't have any outages for years; then all of a sudden, we had several of them," he said. "We decided we needed a generator because if Sioux Falls had to close, then every office had to close. That wasn't acceptable."
Since the generator was installed, only a few small power outages have been experienced, but the decision to install it was a good one for the company, Bren said.
Client Concrete Materials had experienced several outages — some for less than an hour, several more for four to eight hours — that led the firm to decide to install a generator in its office. Having that in place would keep the company's smaller data center and team members up and working.
"From there, when we designed our new office, it was one of the first things on my list to make sure the generator could handle our new and future needs in our data center and office environments," said Jayson Drake, Concrete Materials' IT manager. "As much technology as we use today to help serve our customers, if our main office data center were to go down for any amount of time, it would limit our team members' ability to service our customers."
With a battery backup and generator in the main office, Concrete Materials team members elsewhere won't notice a power outage unless their sites also have been affected.
"Even some of those are being evaluated for generator hookups to continue serving our customers with a small amount of downtime," Drake said. "So for us, it was about being able to continue to serve our customers even when we were without electricity."
National standards mandate that health care facilities have emergency power systems, Bren said. Jails and prisons also use backup systems for obvious reasons. Large financial institutions such as those in the credit card industry or businesses that depend on the internet for their services also likely will want such systems. Where an unexpected disruption could cause injuries, fatalities, serious business issues or data loss, a generator is recommended.
Generators will provide the electrical power needed until the normal utility sources have been returned to service. An uninterruptible power supply, or UPS, is used to protect hardware such as computers, data centers, telecommunication equipment or other electrical equipment until the generator is up and running. Supplying energy stored in batteries is usually done for short periods of outages, usually up to 15 minutes.
If there is no generator, emergency egress and exit lighting with internal batteries gives people inside the building a lit path to leave the facility. Like emergency lighting, fire alarm systems also operate on batteries and are installed following national code requirements.
Kelli Osterloo, an electrical engineer with TSP, has worked on multiple projects with Rapid City Regional Health. Most of that work involves existing buildings, so a big part of the design process is working with owners and users to determine exactly what loads are needed and wanted on generator power.
"A lot of this comes down to code requirement and coordinating with the owners on where their equipment will be located in the space, such as med refrigerators and med dispensers that require power at all times to maintain temperature and need to remain accessible when power is lost," Osterloo said.
Another example of equipment that frequently uses backup power is imaging equipment. CT scanners, for example, are very expensive. If power is lost during the scan, not only is there imaging downtime, but an unexpected loss of power can damage the equipment itself, Osterloo said.
A business should always at least consider a generator because it can be a good investment, said Jake Buckmiller, an electrical engineer-in-training at TSP.
"Thinking locally and for the current season, ice storms are a common occurrence. If bad enough, power lines could be down for hours, if not longer," Buckmiller said. "The building owner needs to examine the work that they do and how a potential power outage of an extended duration would affect their productivity and what they could lose financially during that downtime."
Contact the engineers at TSP to learn more about whether a backup generator is right for your business.