January 9, 2018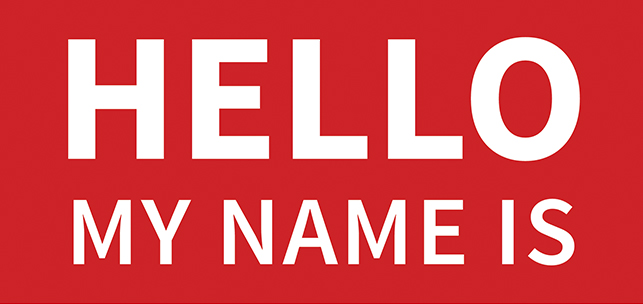 TSP rolled into the new year with good work in the pipeline and the right people to make it happen. That includes fresh talent who joined #TeamTSP during the last half of 2017. Read on to discover more about our people.
Marketing | Graphic Designer; Sioux Falls, SD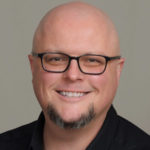 Like the rest of the Marketing team, Mike reports to Manager Jeff Bowar and serves the communication needs of the entire firm. He earned his associate in graphic design from Alexandria Technical & Community College in Minnesota and spent nine years illustrating and designing greeting cards for Carlson Craft in Mankato, MN. From there, he transitioned to ad agencies. He comes to TSP after eight years at ADwërks. You can see samples of his creative genius from the agency days and his own freelancing gigs at haymike.com online, or check out his original drawings on Illustrators Social Club (where you'll find human forms among the superhumans that reflect his love of American mythology).
Career Inspiration
Mike started college with a "vague notion" of pursuing some type of communication degree. A few courses in, he found himself drawn more to visual conversations than the printed or spoken word. "Graphic design seemed the natural extension of that," he said. "It wasn't really until my mid-20s that I realized my interests lay specifically in branding, advertising, and marketing."
Design Passion
"My biggest interest in design is how to get to the heart of a brand and then make sure that gets communicated consistently throughout any marketing execution or touchpoint with people—internally and externally."
Life Outside Work
Mike enjoys illustration, Christian apologetics (the reasoned defense of Christianity), weight-lifting, American mythology (comic books), and cinema study.
Architecture | Architectural Graduate; Rochester, MN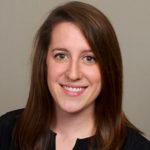 Architecture is just part of the daily conversation at home for Alex Schrader. She and her husband both chose careers in architecture (he's a landscape architecture intern/graduate). Alex currently is participating in the Leadership Greater Rochester program that Office Leader Von Petersen completed in 2016.
Career Inspiration
"I'd always had an inclination toward design, and I kind of grew into architecture," Alex said. "In middle school, I was into graphic design and fashion. Trying to get a better handle on those let me to housing and interior design, and I ultimately found the architectural component the most interesting." She earned both her master of architecture and her bachelor's degree from North Dakota State University.
Design Passion
Alex strongly believes in historic preservation and incorporating the old into the present-day. She's always on the watch for intriguing shapes, forms, materials, and techniques—even while traveling. In southern Spain, she saw Moorish architecture in the castles and fortresses that have stood for centuries. While pursuing her master's degree, Alex worked with Steve Martens of the Grand Forks Historic Preservation Commission to research and compile a successful National Register of Historic Places nomination for the Wells-Denbrook Architectural Studio. In another building – an 1880s shop sitting vacant in Minneapolis – she found the perfect canvas for her thesis project. The Uptown building would become the site for a 21st Century funeral home that implemented historic renovation and new construction on the empty lot next door.
Life Outside Work
Alex and her husband, Ryan, "do typical Minnesota stuff," which includes camping, fishing, and other outdoors activities. They take to the road most weekends during the summer, visiting friends and family.
Architecture | Architectural Graduate; Rapid City, SD
Kasey works under the direction of Principal and Senior Architect Mark Averett to support design projects and provide detailed documents.
Career Inspiration
Kasey grew up in Rapid City, but Montana State University's architecture program led him out of state. A visit toward the end of his career at Stevens High School sealed the deal. By then, he'd already done an internship with a design firm. In addition to an accredited program, MSU's architectural department emphasized visual tools such as physical models. "I love to create and draw and build—to make something out of nothing," Kasey says. "It's that opportunity to bring ideas to life that really pulled me toward architecture." Design-related niches at MSU helped him discover new interests. He learned to weld in a furniture class, and he had access to tools such as laser cutters and CNC machines that enabled him to create intricate wood and foam carvings for site-topography maps. He describes Bozeman, MT, as "kind of a bigger-scale Rapid," with plenty of skiing, snowboarding, and other outside activities to keep Kasey busy outside of class time. "I wanted to be in a place where I could get away from working really hard and enjoy the outdoors," he says. "You can explore, and it just reminded me of the Black Hills."
Design Passion
Kasey maintains an open mind about the direction a design will take—whether the project is for a client or a family member. "My dad is working on a house project, and he keeps making changes, so I'm doing all these quick and dirty sketches to help him decide which way to go," Kasey says. "Sketching really gives you that room for flexibility but still gives you a good trajectory. I'd say that's my design approach." He's especially intrigued by the complexity of hospital projects, in part because he understands how much design influences the way caregivers and patients experience those healing spaces. Conversations with his sister, an occupational therapist, helped inform the details Kasey included on a recent addition to a physical-therapy (PT) clinic. "I kind of had an idea of what types of exercises they would do with patients to stay active and keep everyone mentally engaged as well," he says. "In that field, it also helps to have a strong work ethic and a will to meet your goals. I think there are a lot of parallels between architecture and PT, actually."
Life Outside Work
Being back in Rapid City means Kasey can spend more time with family. His love for pheasant hunting made him a natural to help train his brother's yellow lab puppy, Gunner. Kasey balances his outdoor and family time with the arts: He's a painter and illustrator who plays guitar in a band with a longtime friend and vocalist. Kasey enjoys many facets of the arts and hopes to continue collaborating with creative minds.
Architecture | Architect; Sioux Falls, SD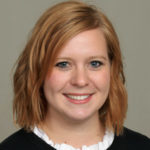 Allison throws herself wholeheartedly into any project she takes on. The diverse list proves she's more than just a joiner, she's a get-things-doner: Sioux Falls Up & Coming, City of Sioux Falls Board of Appeals, AIA South Dakota Board of Directors, Daughters of the American Revolution. Allison reports to Principal and Senior Architect Michelle Klobassa. She is a certified consultant with the Passive House Institute US (more later on her interest in all things green). Allison also is an NCARB committee volunteer: She helped inform the ARE 5.0 Item Writing component last year and currently is on the ARE 5.0 Case Study Task Force.
Career Inspiration
Allison decided on her career in third grade, when she made a visit to the North Dakota State University campus with one of her older sisters. "The A/E programs are in a circular building, and I was just in awe: 'I want to go to school here someday,' " Allison says. "I was thinking about maybe music, but I was driven toward design even more because my mom saw some of my drawings and said I should really consider it as a career." Allison made good on her promise to her third-grade self, earning both her Bachelor of Environmental Science and her Master of Architecture degrees from NDSU.
Design Passion
Allison's mother, a special-education teacher, inspired her to focus on how architecture can help facilitate human interactions among those with autism and the "outside" world that at times seems closed off to them. "I was able to help with my mom's classes while I was in college, and I saw that the kids she worked with were so incredibly smart but couldn't communicate, so they'd been sort of put aside as students with disabilities," Allison says. "I felt like I could make it my mission to take on this area of design someday and help develop awareness of how architects create spaces—especially those that will be occupied by people with autism. The greatest part of this research has been developing more empathy for clients." Allison will co-present "Discovering Human Experience in Accessibility" during the U.S. Green Building Council's Rocky Mountain Green 2018, scheduled for May 3 in Denver. She's working with Meaghan Walls of Assistology in Omaha and Stuart Shell of Forte Building Science (a division of M.E. GROUP). Meaghan is a hands-on engineer whose company provides assistive technology solutions for businesses and individuals. Stuart works in IT for building systems, focusing on optimizing the environment's performance and the human experience. It won't be the first time Allison's work is highlighted on a larger stage. She presented her paper, "Poetic Action for Autism: An Intersubjective Approach," during the 2014 Atmosphere + Action Symposium at the University of Manitoba. More recently, her PechaKucha (20 images x 20 seconds) on a similar theme was featured on the PechaKucha Night International page in Japan.
Life Outside Work
Day trips to explore the world with her son, Ezra, and husband, Jordan, top Allison's list of best ways to spend her time. She also enjoys fishing and boating.