June 12, 2018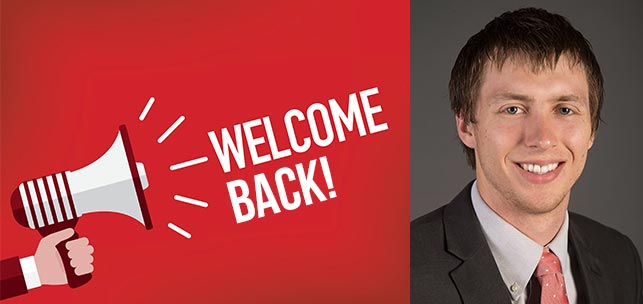 A lot can change in a year. When Luke Stewart began his internship last summer in TSP's Sioux Falls office, he and his wife lived at Lake Norden with their four-month-old son. Luke had a year left in his electrical engineering program at South Dakota State University, and the hours outside of class burned short.
Now, the recent graduate has time in the evenings with family. The three relocated to Summerset so he could join TSP full-time as an electrical engineer-in-training (EIT) in the Rapid City office. And their "baby" is a toddler who gets into everything.
"Just being done with school is huge," Luke says. "I have evenings to spend with my family, so we get to do a lot more together. That's really the biggest thing. And he absolutely loves mud puddles. If it rains, he's out there splashing around."
The Washington state native moved to South Dakota at age 19, after a visit with extended family near Watertown led to a tour of SDSU's campus. The exposure couldn't have come at a better time: Luke already had four years of work experience wiring residential and commercial properties for an electrical contractor company, and he realized he needed to pursue higher education to move forward in his career.
"I remember way back in first grade, I wanted to be an electrical engineer—even though I really had no idea what that meant," Luke says. "Then I started working for CTM when I was 15, so for me it's always been electricity. It's one of those things that's so behind-the-scenes, you take it for granted until it's not working."
At SDSU, Luke specialized in the "power side" of electrical work: the photovoltaic systems that generate power and transmit it across long distances before distributing it to end-users in homes and businesses. Now, he's ready to learn more about the "innovative side" of electrical design. "You can develop just about anything to do nearly everything with electricity," he says.
His summer with TSP in Sioux Falls introduced him to project work that required some creative solutions. He also got a feel for the company and its culture of collaboration. The latter turned out to be the bigger factor in his decision to return to TSP as a full-time EIT.
"It's really important to me to work with people who have the same attitude," Luke says. "You're there together, day to day, so you need to feel like that's where you want to be and how you want to work."