June 27, 2018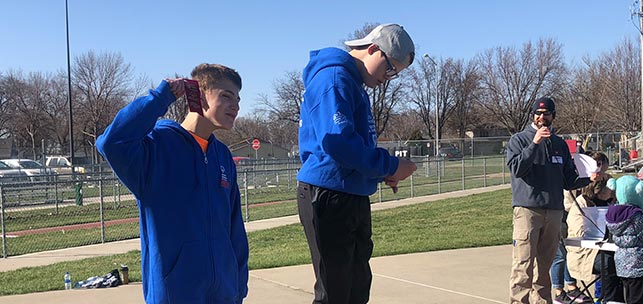 Above: Young athletes celebrate their wins during Special Olympics South Dakota's 2018 Southeast Area Spring Games. TSP Principal Tim Jensen (far right) reprised his role as awards-stand announcer for the late April track-and-field competition.
Experts advise workers to start saving for retirement with their first full-time job. TSP Human Resources Manager Kari Kiesow took up another habit at the same time: Helping make a life for others.
"One of my earliest bosses was big on giving back, and he encouraged us to volunteer in the community," says Kiesow, who recruits and retains team members at the full-service integrated architecture, engineering, and planning firm.
Earning a living and creating opportunities for others go hand in hand, Kiesow believes. This spring, she wrapped up teaching her 14th class for Junior Achievem­ent in Sioux Falls, SD. The nonprofit brings workers and their real-world experience into schools to teach age-appropriate curricula on money matters and career-related issues. Each class comprises a series of five to seven sessions. Kari has spent the past several years in high school classrooms, focusing on interview skills, résumé prep, conflict-resolution strategies, and other elements that contribute to success.
Kiesow sees and feels the positive effects that take root when businesses invest in local causes. She and her felow TSP team members collectively donate hundreds of hours annually to their individual charitable passions. The effect is magnified even more by office-wide activities organized in each community.
It's all part of TSP's core focus on making communities better, by design. The 88-year-old firm's professionals take great pride in creating facilities that serve clients for decades. But they understand their true legacy as a company is the reputation built through long-lasting relationships. These deep commitments include multiyear board terms for charities and small-town economic-development associations, massive annual events that require months of planning, and mentor/mentee pairings that can span a student's entire elementary or high-school experience.
See how TSP is making a difference in our communities during 2018!
Other opportunities are a bit more unusual. Earlier this month, a team of TSP colleagues and family members from two states spent a weekend camped on a rugged mountainside in Wyoming, providing around-the-clock aid-station support to racers during the Bighorn Trail Run. And one architectural graduate in Rochester, MN, even asked her wedding guests to collect goods for the local women's shelter in lieu of gifts for the couple.
Tim Jensen, Managing Principal of TSP's Sioux Falls office, is only a few months into his three-year board term with Special Olympics South Dakota (SOSD). "Special Olympics is about discipline and hard work, doing your best, belonging as part of a team, sportsmanship, and the importance of physical fitness," he says. "The joy and confidence that these athletes experience is something you can't really explain."
With Jensen's board service, TSP strengthens its ties to the nonprofit. The firm designed the SOSD Unify Center, and employees have volunteered in back-to-back years for Special Olympics' track-and-field Southeast Area Spring Games. TSP also is a gold-level sponsor for the USA Games, a national event set for July 1-6 in Seattle. TSP's contribution will underwrite the cost for one South Dakota athlete to attend.
Group-service opportunities took shape after an employee-suggestion initiative revealed a common theme across the company's regional footprint. People wanted to make community involvement a firmwide priority—while still affording each office the freedom to identify which causes resonated most deeply with its team members. "Event Champions" are assigned to each so no detail is overlooked and everyone stays informed.
Some people gravitate toward groups whose work effectively builds community in unconventional ways. Dan Johnson Jr., an architect in TSP's Omaha office, is the unpaid volunteer program director for Spielbound. Two friends who loved playing board games founded the nonprofit. The pair combined their game libraries and opened them to the public. The collection now includes more than 2,000 titles for players of all ages and interests.
Johnson describes how one cofounder—Spielbound CEO Kaleb Michaud—noticed something curious during game nights. "He saw you could play a board game with people from totally different religions, sexual orientations, or political parties, and they would sit and talk without arguing," Johnson says. "These people realized they had some common ground as human beings and communicated about all sorts of topics. Kaleb thought games could facilitate bringing people together who normally wouldn't be in the same room. You get them to play a game, to talk, and then they want to play together again."
That sort of personal connection recently inspired Kari to take on another community role in Sioux Falls, SD. Moved by friends who'd needed assistance when they were starting their families, she began volunteering for Teddy Bear Den. The mother of two now serves on the board of directors. Through an incentive-based system, the nonprofit promotes healthy lifestyles for economically disadvantaged pregnant women and moms. Women earn points for a range of positive behaviors, from making regular prenatal visits or quitting smoking to completing infant- or childcare classes. They redeem those points in the Den's store to earn everyday supplies or new gear such as play yards and baby swings.
"We volunteer in the Den, we enroll new participants, we help them shop to make the most of their points or look at ways they can earn more points," Kiesow says. "You can see from the work you're doing that it really makes a difference to this person and to entire families. And ultimately, that benefits everyone."