March 26, 2019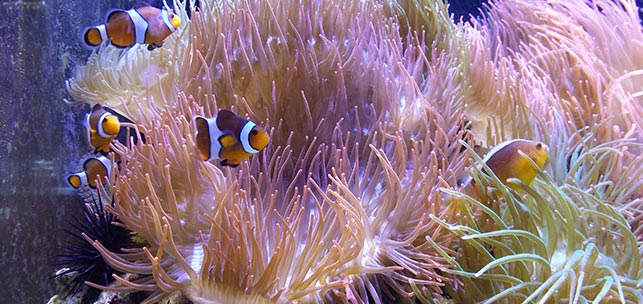 A marine-life facility is charting new territory in the Dakotas, with help from architects, engineers, and planners at TSP, Inc. We went behind-the-scenes with staff at the Butterfly House & Aquarium to give readers of SiouxFalls.Business a sneak peek at everything that's to come.
The team behind the Butterfly House & Aquarium has gotten good at waiting. Their staff members specialize in caretaking the ocean's building blocks—organisms like coral, jellyfish, and sea horses, whose populations reflect far larger changes in marine ecosystems. Some of those coral species grow less than an inch each year, making slow but steady progress.
The nonprofit's board has shown patience in other crucial ways, too. Since 2013, board members have worked to garner support for a building expansion. Now, they've secured commitments for half the $7.5 million it will take to realize their vision. Combined with proceeds from a recently completed annual drive, the donations in hand enabled them to start the first phase of renovations inside the butterfly conservatory earlier this month.
"This has been in development for a long time, and we've had three versions of the same basic idea with many, many variations. I think we're currently on Version 22," said Board Member Sean Ervin. "It started as a fairly modest expansion and now will triple the public space for the marine cove exhibits. The push is really to 'plus it up' to be more of an aquarium experience. Things have changed a lot."
Ervin should know. He's also a senior architect and principal at TSP, Inc., the integrated design and engineering firm that's collaborating with the nonprofit to create the new Dakota Aquarium & Butterfly House—a name change that reflects the attraction's shift in focus. Attendance at the facility has increased 90 percent since the marine exhibits opened in 2011. The two-phased construction project will bring new opportunities for visitors and those who work in the field of marine conservation.
Key components
As the improvements take shape, guests will notice key interactive differences: a pop-up dome in the clownfish exhibit, enhanced tidal touch pools, a cylinder jellyfish tank, and a significant increase in the number of exhibits. The entire facility now contains roughly 10,000 gallons of displays. A single tank in the largest planned exhibit—the Lagoonal Reef—could reach that capacity on its own.
The addition will wrap all sides of the existing structure, creating a loop around the heart of the building: the butterfly conservatory. That conservatory now is getting some updates, but the work won't add square footage. The space already is the optimal size for visitors to see the insects' wings unfold in flight for an interactive, immersive experience.
The expansion's overall concept takes guests from rocky coasts to shallow seas and then lagoons before bringing them back to land, where enhanced classrooms will offer hands-on activities such as a watershed table and underwater microscopes. The tour will end in the gift shop before guests pass through a set of doors and re-enter the arrival area where their visit began.
Click here to learn more: View a floor plan for the aquarium's exhibit galleries and see other changes that will take place inside the butterfly conservatory.
It's an ambitious leap for the independent nonprofit, which is self-funded through admissions, memberships, gift shop sales, and donations. The group receives no United Way allocation and no subsidies from the City of Sioux Falls, State of South Dakota, or the Sertoma Club.
Project timeline
The two-phased project will start with smaller additions to office and storage areas, giving staff and volunteers much-needed space. The administration suite with board room and an employee break room are absolute musts to accommodate the growing number of people needed to operate the facility.
Inside the butterfly conservatory, a new gazebo will take shape in the center of the room. A new misting system will serve plant and animal life. A second, taller waterfall will rise in the northwest corner, cascading in an arc over the paved walkway so visitors pass behind a curtain that flows into the existing waterfall. That smaller structure will be rebuilt to allow water to flow down nearly every side into the renovated and deep-cleaned pond.
The initial work phase will continue through next winter, wrapping up in time for summer 2020. Journey Group then will begin major construction on the aquarium galleries, classrooms, admissions, entrance, gift shop, and reworking of the butterfly room's entrance/exit path. The goal: Hold a grand opening for the Dakota Aquarium before the end of 2021.
Conservation programs
The facility is one of only a few in the United States to combine a butterfly house and an aquarium. The research and conservation work that take place inside make it even more unique in the region. For many Midwesterners, "elkhorn" and "staghorn" conjure images of hunting trophies.
Aquarium Curator Zach Huisken has a different take. In his field, the two terms actually refer to types of brown branching Caribbean coral classified by National Oceanic & Atmospheric Administration Fisheries as "threatened" under the Endangered Species Act. The Butterfly House & Aquarium is one of only a handful of facilities in the nation successfully housing and growing these Caribbean coral species.
"The world's coral reefs are declining at a rapid rate," Huisken said. "We're growing coral for our exhibits as well as to share with other aquarium institutions to prevent collecting corals from the ocean. But we're struggling for space right now and simply don't have room for our growing corals."
Click here to watch a video that describes how aquarium staff grow coral species.
Lindsey Barwald, the nonprofit's development director, puts it this way: "We've been propagating jellyfish and coral, and now we are raising pot-bellied seahorses. Every day, we hatch a fresh batch of brine shrimp—'Sea-Monkeys'—to feed the jellyfish and seahorses. We've shipped up to 100 coolers of corals and jellyfish to other aquarium facilities by this point."
The Butterfly House & Aquarium also ships non-threatened stony coral species to fellow facilities, including the Henry Doorly Zoo & Aquarium in Omaha. Coral from the local "lab" has been sent to California, Arizona, New York, and "pretty much anywhere in-between," Huisken said. "These are the major reef-building corals in the Indo-Pacific. Larger aquarium facilities display larger tanks, and we can help them by providing coral to fill their exhibits."
The expanded aquarium facility in Sioux Falls will include proper space, equipment, and infrastructure to help those efforts become even more efficient. Huisken and his team use LED lights, which run cooler and use less energy than bulbs designed to replicate the sun's intensity and spectrum.
"A lot of facilities have transitioned from an older way of doing things to new technology like LEDs," Huisken said. "The expanded aquarium facility will allow us to incorporate more technology into our aquarium operations."