April 19, 2019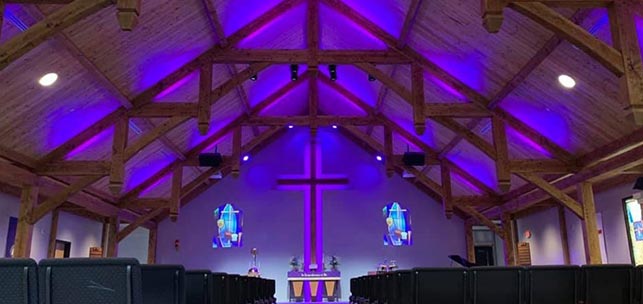 When the proposal to turn a beer distributor's warehouse into a church first came before a Nebraska congregation, some members were supportive but skeptical that the cavernous building would ever feel like a place of worship.
As Our Savior Lutheran Church of Norfolk prepares to celebrate Easter Sunday, however, the Rev. Lee Weander said the congregation's response to its home of seven months has been phenomenal.
"We recently completed our traditional worship space, and everybody is stunned that, that room is in a warehouse," he said. "It looks like a 150-year-old church was torn down and reconstructed."
From September 2018 until the new sanctuary was finished just days ago, the congregation conducted traditional worship services in a large conference room. Contemporary services take place in a space specifically designed for that purpose. Nine-hundred people filled the room at Christmas.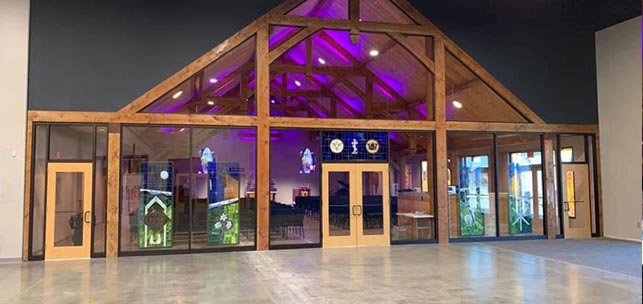 Our Savior has seen attendance increase 18 percent since the move, Weander said. To him, that signals both the benefits of thinking creatively and employing an architectural firm that can make those dreams come true.
"Think outside the box when you need additional or new worship space," Weander said. "Our average age is 29, and when they think of church maybe it's with a bit more biblical understanding of church as a place where it's about the people, the relationships, a place where we hear the word of God, not so much about the style of a structure. And don't be afraid to employ a good architect, and they can help you get this together."
Our Savior hired TSP Inc. in 2015 after interviewing four firms. TSP architect Paul Boerboom, now retired, watched Weander's sermons online before the interview. Struck by a message that advocated unpeeling a banana in a nontraditional manner, Boerboom brought a bunch of bananas to committee members. Bananas became a running joke between the two men, with Weander bringing a bunch to Boerboom's retirement party.
"The best part of meeting with potential clients is learning what the passion is behind the project," said TSP architect Michelle Klobassa, who served on the project team. "We intentionally allow time during our interviews to pause and ask questions and try to draw that vision out."
Jason Doele, the Our Savior congregation president, knows it is unusual for a Lutheran church to buy a former Budweiser beer distributorship, but flexibility and vision are essential.
"People were willing to look past the fact that it was just a big box," he said. "Now with the peaked roof, you feel like you're actually inside a traditional sanctuary."
Norfolk's other Lutheran Church-Missouri Synod congregations established Our Savior in 1963 as a mission church. The West Side Mission Society built a 25,000 sf structure on what had been a vacant lot and changed its name.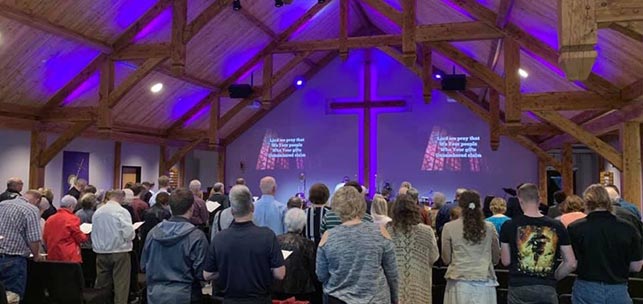 "We were innovative then and built a 10-sided round building with a big swooping roofline that came to a peak in the middle," Weander said. "I think that ties into us now being a little bit cutting-edge being in a warehouse."
Attendance at Our Savior gradually grew to six weekend services, said Weander, who has led the church for 25 years. When church leadership decided to find a different site, while remaining in western Norfolk, TSP was hired with the understanding that a new 40,000 sf church would be constructed. That changed on the very day TSP team members drove down to help with site selection. That's when church members learned the Eagle Distributing building was going on the market.
"It was within a mile of our previous location and 60,000 square feet on a little over eight acres of land," Weander said. "All those things checked all the boxes for us."
Almost immediately, the Norfolk School District bought the old church to convert to a preschool, and the congregation began to dream.
"When you toured it, the cooler, the pallets full of beer, and the semis, to think of an altar and pulpit and cross there was really quite fascinating," Doele said. "Once TSP did the drawings, you could see what it would look like."
"Our Savior might be an extreme example, but many projects end up taking a different direction than we first anticipate," Klobassa said. "The possibilities of transforming this warehouse into a church were really exciting, and we embraced the opportunity. I would call this a once-in-a-lifetime project."
Our Savior members quickly bought into the idea of moving into a warehouse, Weander said, especially one that offered space for future growth while not requiring the expenses of site work and infrastructure. Few changes other than signage took place on the exterior, but the church worked closely with TSP to make sure the interior would feel like a church. A former Eagle Distribution saleswoman who toured the church after it opened said through tears, "It looks like it was built for you."
"I would say that TSP from the lead architect to the interior designers to the people who selected the lights made sure it not only fits our needs but satisfies some of the people who wanted a certain feel," Weander said.
Since the move, Our Savior has expanded its existing ministries and offered its expanded space for community events. Later this month the Norfolk hospital will host its annual memorial service at Our Savior, and a dance company used the contemporary worship center for a recital.
In its former location, Our Savior had been so crowded that some Sunday School classes had met in hallways. Now, the church has a large area with controlled access. The church also uses that location for a preschool during the work week.
Our Savior has finished about 50,000 sf of the building and now is talking about the possibility of a 2020 campaign to build out the final spaces for education activities.
"The life cycle of a building project can go on for many years from the initial planning to the completion of construction," Klobassa said. "Through that process, we really have the chance to get to know our clients and create lasting relationships. You have this shared sense of achievement and responsibility when you walk through the doors of the project with them."