When Ron Mielke sits down for his annual review with his boss, Project Manager Brian Heidbrink, the two men don't spend any time on Ron's 10-year goals at TSP, Inc.
Or even his three-year goals at the full-service architectural, engineering, and planning firm.
Because after 50 years in a variety of roles with TSP, Mielke now is content to take it a year at a time.
"When Brian and I sat down in January, I just said, for right now my plan is to work another year, and we'll see if it still works for me, and it still works for TSP," he said. "I enjoy being part time and the flexibility I have. I consider doing a little business development and managing projects with clients the fun part of what we do."
Mielke's half-century with TSP makes him the longest-tenured employee in the 89-year-old firm's history. During that time, he has brought mentorship, executive leaderships, and a particular vision as TSP has moved forward in an ever-involving industry. His embrace of changes in technology is just one example of his forward-thinking guidance, while community involvement in groups such as the Sioux Falls Area Chamber of Commerce has impacted other businesses and industries.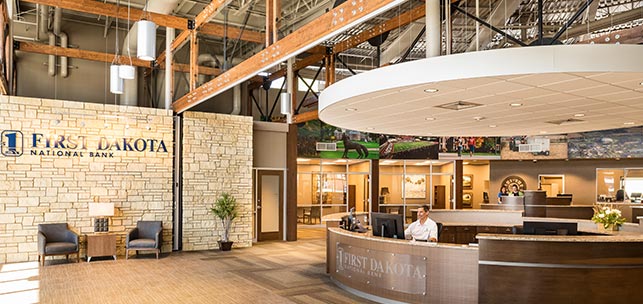 TSP honored him at a luncheon May 7. It concluded by giving him a recognition the firm had bestowed previously only on founder Harold Spitznagel and his second-generation partners: naming a meeting room after him. The conference room now known as The Mielke Square is used for team meetings and public gatherings.
"That is our way of honoring those who have left a legacy," said Tim Jensen, a TSP principal and Sioux Falls office leader. "This is a room where we foster relationships and develop our core values, and it's only fitting this room should be named for Ron."
Jensen describes Mielke as a mentor to many and someone who, by example, helped the company develop its core values, which include trust-based relationships and leading with a servant's heart.
"You're teaching us how to do it," CEO Jared Nesje said at the luncheon.
Mielke officially started at TSP on Jan. 30, 1969, after obtaining a Master of Business Administration from the University of South Dakota. That was four years after he received a Bachelor of Science in Mechanical Engineering from South Dakota State University. In between the two, he served from May 1965 to September 1967 with the U.S. Army.
When Mielke decided against making the military a full-time career, he determined a business degree would complement his engineering background.
"I never wanted a master's or doctor's degree in engineering because I didn't want to teach or do research," he said. "I'm probably the only individual in the organization that's ever had a master's degree in business. That's been immensely valuable during my career at TSP. You've got some finance, you've got some marketing, you've got some business law, you've got a lot of those pieces and parts of what a business operation is about."
Mielke says now that when he started at TSP, he had no idea what architects and engineers did. A friend from his single year at South Dakota School of Mines & Technology, the late Jim Bauman, steered him toward TSP, where Jim worked as an electrical designer. He received a description of the company and its employees from then-principal Dave Rosenstein, who hired Mielke.
Mielke's friendship with Bauman had another benefit. Bauman's wife, Karen, introduced Mielke to a young woman named Charlotte Petrik in 1967. They were married in 1969.
"Her mother and sister lived here, and my sister lived here, so it was probably a forgone conclusion I needed to find a job here in Sioux Falls," Mielke said.
Over the course of 50 years at TSP, Mielke has served the company as a professional engineer, project manager, department head, principal, chief executive officer, construction services leader, and board president. Projects include the Michael J. Fitzmaurice South Dakota State Veterans Home, South Dakota Army National Guard's Watertown Readiness Center, the National Guard's Building 802 at Camp Rapid, Honey Creek Resort, Holy Spirit Catholic Church, and Capital Area Counseling Service's new building.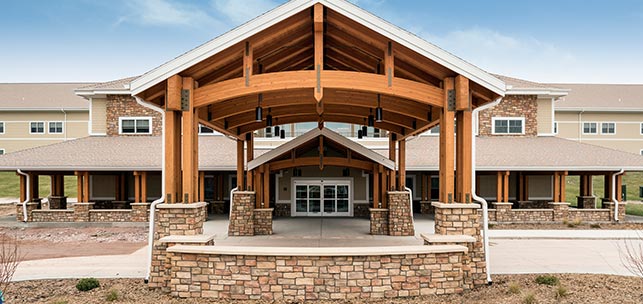 Other projects include various buildings at the South Dakota Air National Guard, on the SDSU campus, and three branches for First Dakota National Bank.
His military service continued through most of his half century with the firm. Mielke served in the U.S. Army Reserve from October 1967 to April 1972. After 30 years with the U.S. Air Force/South Dakota Air National Guard, he retired in October 2002 as a brigadier general.
Fred Rittershaus, the college professor who steered him toward the National Guard, gave Mielke the best advice he ever received.
"He used to tell senior officers the old Boy Scout motto, 'Be Prepared'," Mielke said. "What I learned, later is you've got to be looking at what you're doing to enhance your personal enterprise. I always prepare my 'Mielke enterprise' for that next opportunity. What are you doing to make your enterprise more valuable, worth more, have more expertise?"
Ron and Charlotte, who died in 2013, raised one son, Steve. He has one granddaughter, Grace. Mielke and Karen Koob have been married since July 28, 2017; Karen has two daughters and four grandchildren.
When Mielke occasionally says he is too busy to get something done, Karen teases him by saying, "Well, you know, you'd have more time if you retire." Mielke knows that being fully retired would allow him to spend even more time at volunteer activities, and he's not afraid of a life without almost daily trips to the office.
The benefits of continuing to work, however, outweigh that.
"I still enjoy what I get to do here, the clients I get to work with," Mielke said. "I do a lot of things to stay physically active, and work is a good mentally engaging activity. There are new challenges or new issues each day with our projects and our clients."