Workers need experience to get a job. They need a job to get experience. And increasingly, they're looking for employers that help them get more than a paycheck from their early-career years.
"We're really intentional that we aren't just putting mindless tasks in front of people," said Michelle Klobassa, a principal and senior architect with TSP, Inc. in Sioux Falls, SD. The integrated design, engineering, and planning firm provides a framework for smart risk-taking. "We want people to have opportunities to stretch their wings and see what they can do."
That's part of the premise behind a new range of nationwide programs designed to engage and uplift emerging professionals—particularly those in demanding fields that require advanced degrees or certification.
These initiatives are becoming a larger part of the support networks created to foster success at medical universities, through industry associations and within the U.S. Post Office—just to name a few institutions with "EP" tracks. Some larger high schools even have co-opted the idea for summer internship experiences that expose future leaders to related careers.
It's smart business for recruitment and retention efforts, too. The mix of meaningful work, an equitable salary and benefits package, and financial assistance to attain licensure made TSP the right move when Alex Schrader was looking for a new company.
"It's huge to feel like leadership is committed to our personal and professional development," said Schrader, an architectural graduate in TSP's Rochester, MN, office. She values the investment TSP makes in each person's career trajectory and the trust inherent in a structure that supports flexible work hours.
"In any new career or job, you're bound to feel out of your depth occasionally. But feeling overwhelmed for long periods of time shouldn't be the norm," she said. "When you have people willing to answer questions or just jump in and help, you know it's an entire, cohesive team. That's extremely important."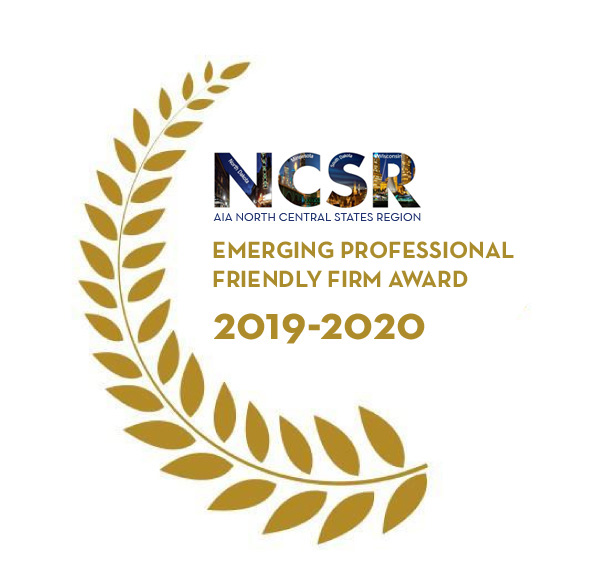 So important that the standard-bearer for Schrader's field—the American Institute of Architects—created the Emerging Professional Friendly Firm Award to recognize companies that do it well. TSP was among the first class chosen by the AIA's North Central States Region. The AIA region recognized only three firms in South Dakota—part of its footprint along with Minnesota, North Dakota and Wisconsin.                  The EP Friendly Award is designed to foster conversations between established and new designers, ultimately improving the supports that are available industrywide. TSP's submittal highlighted career opportunities, benefits, mentorship, licensure assistance, conferences and training for professional development, and other aspects of work life for architecture students, recent graduates and registered architects licensed within the past 10 years.
"I'm a little bit in that middle ground," said Klobassa, who also meets the AIA's definition of an emerging professional because she's been a registered architect for nine years. She hopes to play a role in giving others the same sort of positive experience she had.  "I feel like I had great support to get licensed, and the library of study materials also was useful. When I see things that might help people who are preparing for those exams, I pass it on."
Architect Chase Kramer was among those who took part in a roundtable discussion to inform TSP's responses to the award process' nearly 40-item questionnaire. Shareholder and Senior Architect Sean Ervin also participated, providing the principal's perspective required by the award's guidelines.
"I do think that being one of only three firms in the state this first year does help differentiate us," Kramer said.
"Everyone is looking for good employees right now, and this shows these things are on our radar and we're taking care of our people — going beyond the baseline things you'd expect."
Perks and supports that help remove barriers to professional licensure factored prominently in the process. At TSP, those resources include a library of study materials, paid days off to take the six-division exam series and reimbursement of fees when employees pass a test.
It's a mental game to sustain the effort. It also represents a financial commitment that can be a significant deterrent to someone struggling to pay student-loan debt, buy a first home or start a family. The minimum cost is $1,410, and that's only if an applicant passes every test on the first attempt.
The road to registration has been in Kramer's rearview mirror for four years. He and his wife have two young daughters, and he works remotely every Friday so he can make the preschool run for their 3-year-old and have time at home in Sioux Falls, SD, with their 1½ -year-old.
The arrangement is an important piece of his job satisfaction, but he also appreciates TSP's active involvement to engage team members in design-industry associations such as AIA. "I've been here for six years now, and I can say that kind of encouragement to be involved with the AIA was missing in my previous job," Kramer said.
A regular host for AIA South Dakota's Blueprint SD blog, he will joined the group's board of directors in January 2020—just as Klobassa ended her six years on the board.
"It was more like, 'Maybe we'll go to the annual convention,' " he said of his former employer. "I do think TSP really is making it a priority for people to be involved. The network of people you meet in your profession is a huge benefit in so many ways you don't necessarily realize when you're just starting out."
Senior architect Von Petersen echoes that sentiment. The Rochester office's local leader and his wife—also an architect—have two young sons. He appreciates the freedom to work from home with sick kids or simply to focus on a writing assignment away from meetings and appointments.
"Not many professionals my age are in this kind of role at their firm," Petersen said. "I've gotten some ability to make mistakes, but having the mentorship and guidance I've received from people across the firm has been huge."
One of those mentors was a senior architect who retired in October 2018, after more than 40 years with TSP and its legacy groups. "Burt would say, 'Find your entrepreneurial burn,'" Petersen said. "And by that, he meant you have to choose where you're going to contribute the most. When you're right out of school, you love everything and you're passionate about it all. But you can't do everything. He'd say you have to keep working on it and figuring it out. And I don't think you get that same leeway at other firms."
For architectural graduate Mike Young, the support that's "everything to me" at present is the knowledge he can be there for his family. He's a parent working toward professional licensure in his field while his wife pursues a demanding medical fellowship. Young's schedule includes structured time blocks as well, such as a firmwide move toward a single day of the week for all project-team design meetings.
"When we have a dedicated time we know we all need to come together, that's a good thing," said Young, who works with Petersen and Schrader in Rochester, MN. "We can hash out what we need to, plan what we need to accomplish, and figure out how each of us works best."