K-12 school districts and higher-education institutions typically plan major construction phases for summer break. The pandemic has shifted nearly all education nationwide to distance learning, creating a longer construction window.
TSP's Rochester office does a great deal of pre-kindergarten through high school work in Minnesota and Wisconsin. Large-scale builds at Brooklyn Center Community Schools' elementary and junior high/high school facilities in Minnesota are moving ahead of schedule because crews have access to unoccupied spaces sooner than planned. Another K-12 district, MACCRAY Public Schools, is holding virtual work sessions to manage its planning and design effort in Clara City, MN. TSP, the owner's representative, major vendors, and contractors meet together to ensure everyone is part of the conversation and has the information they need at critical decision points.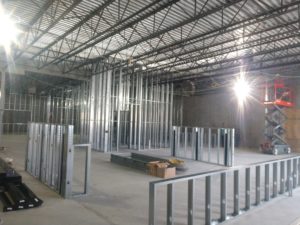 Those projects all resulted from capital-improvements bonds. A third K-12 public school district, this one Johnson Creek, WI, recently passed a referendum to consolidate on a single campus. Administrators and faculty are out of offices and classrooms, so the project team can get to work quickly. We're bringing stakeholders into the conversation early and often, without the typical need to schedule around the school day or extracurricular activities.
Other school districts and college campuses are using this time to move up smaller projects. Security upgrades are a common choice. Entry vestibules, controlled-access doors, and integrated video-surveillance and alarm systems all are smart ways to get a head start on preparations for the next academic year. Some of those elements are part of a TSP-designed project at Vermillion High School in Vermillion, SD. That district just broke ground on a 6,000-square-foot addition for administrative offices, alternative-program spaces, and a new secure entrance.