Many office workers are realizing the temporary move to a home office could be the new order of business. They're carving out whatever nooks and crannies they can to compartmentalize work and family functions. They want those work areas to be as comfortable as possible. A supportive chair and adjustable desktop can do wonders for body alignment and productivity. So can the right hue of paint—the most-talked-about soothing shade for 2021 is a blue-gray that wraps the room like the color equivalent of a hug.
"I've seen the trend for grays shift more to the warmer side, just to help lighten and brighten the mood," interior designer Brenna Wiertzema said. "Companies like Steelcase and West Elm are partnering to promote those themes more across different types of furniture." While that duo's Work Collection is aimed more squarely at the residential market, the same feeling extends into modern office environments. Calming colors and subtle patterns take the place of vibrant ones. For Capital Services' new facility in Sioux Falls, SD, Wiertzema worked with Interstate Office Products to find an adaptable solution that created privacy and safety barriers at individual workstations without blocking natural light from reaching far into the spaces. All employees face the same direction. "We were designing the furniture during the midst of this, and they needed something low enough to allow light but not too low for acoustics," Wiertzema said. "We added 18- to 24-inch-tall glass stackers atop the panels to help with that separation."
In common areas such as the break room and lounge groupings, carefully arranged panels and removable frosted-pane stackers create flexibility. To encourage physical distancing, Wiertzema specified about half the amount of furniture usually seen in a comparable space. Individual, modular pieces offer various combinations without forcing people to sit closely on a single, continuous sectional or bench system.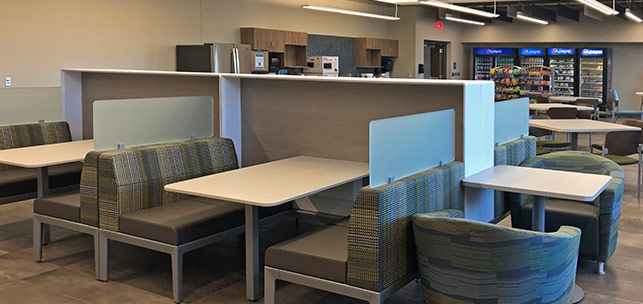 "Clients are asking us to be more creative with how we plan those separate nodes of furniture arrangements," said Loretta Haugen, an interior designer who specializes in healthcare settings. "They want separation now but the flexibility to change it up. Right now, I'm redoing the layout for a waiting area at a clinic, maintaining the six-foot distance required but also anticipating additional seating in the future."
Other pandemic realities affect the supply chain, requiring designers to restrict the options they present to clients who need to spend CARES Act or related funding by a strict deadline. Haugen believes those considerations could continue in 2021, as additional relief packages emerge. "We really have to make sure we're working with in-stock materials that can be shipped on time," she said. "And it's important to keep connected with those vendors about which plants are taking breaks or decreasing their production lines."
Visit the TSP homepage at teamtsp.com or call (605) 336-1160 to learn more about how we can help you plan for 2021 and beyond.