A new project at the Sioux Falls Regional Airport hopes to do for travel what the Midco Aquatic Center did for year-round swimming. The local design firm behind both — TSP Inc. — partnered with specialty consultants for another long-talked-about item on the community's wish list: a parking ramp at Joe Foss Field.
The airport celebrated its first one-millionth-passenger year in 2016. That number rose each following year, hitting 1.2 million in 2019. By February 2020, the peak travel season of spring breakers and snowbirds filled the airport's parking lots to capacity. Then, the COVID-19 pandemic hit, driving down air-travel figures worldwide. Numbers at Sioux Falls' airport now are showing signs for a strong rebound in 2021. Decision-makers know the demand only will increase along with Sioux Falls' population.
"As we continue to grow, the need for parking will as well. We have to decide how we'll add those spaces," executive director Dan Letellier said. "We have the land to keep paving, but we also want people to enjoy using the airport. At some point, we're asking them to walk farther and farther or take a shuttle in the winter. It becomes a convenience factor and a customer-service experience. Another way to do it is to provide covered parking and to put it where everyone wants to park year-round: right in front of the building."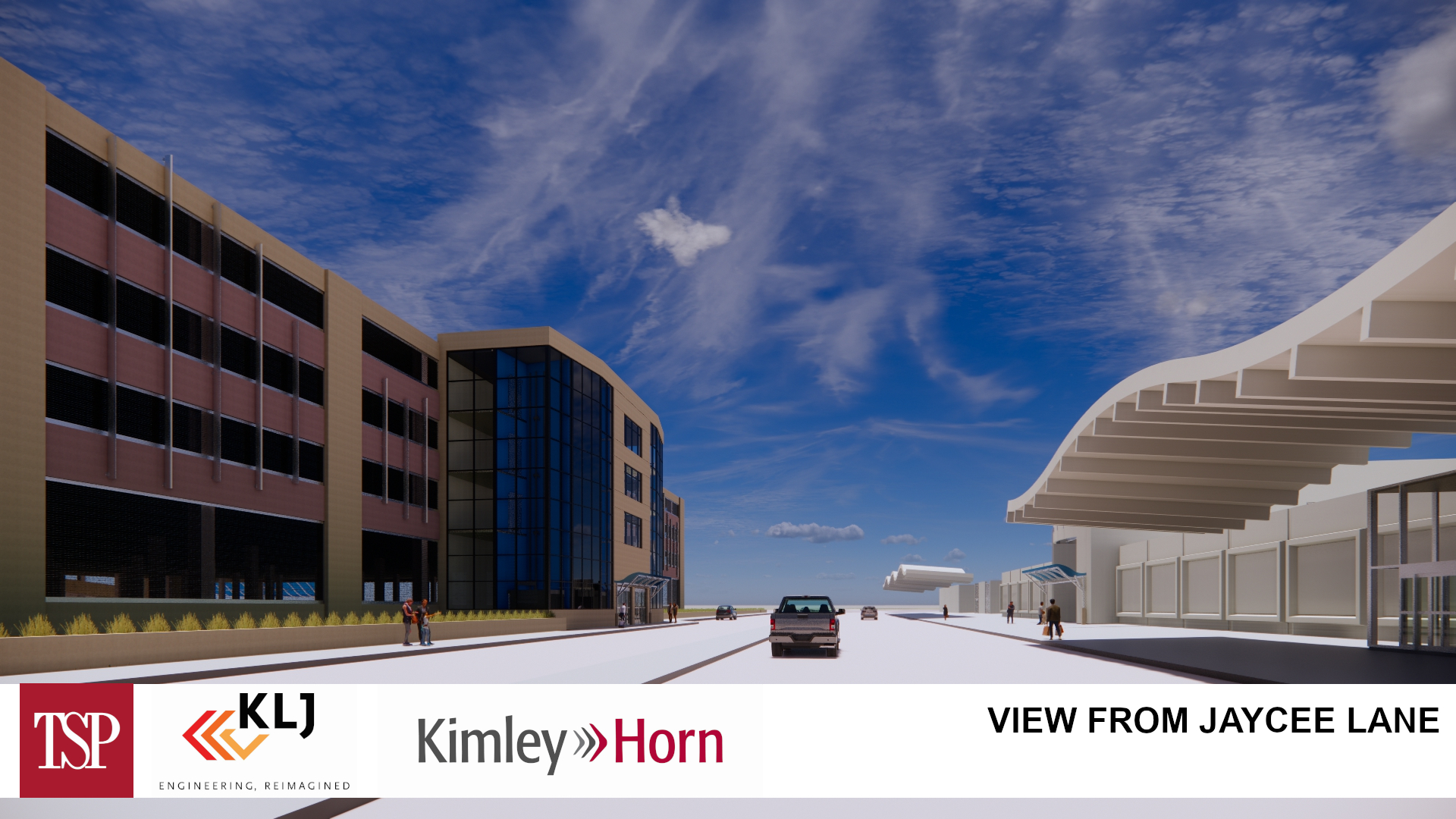 The most recent estimate places the four-level parking structure at just over $37 million. A skyway spanning Jaycee Lane will be bid as an alternate for Airport Authority board members to consider after opening constructors' proposals. The connection between ramp and terminal would add nearly $5 million to the price tag, in part because the option requires a small addition to the terminal itself. Within that area, a new elevator, stairs and a pair of escalators would enable vertical circulation between the terminal's first level and the skyway on level two of the parking ramp. If the Airport Authority starts construction in April 2023 as planned, the project should be complete in summer or early fall of 2024.
Click here to see a fly-over video animation of the new parking ramp and an alternate version with a skywalk.
With or without the skywalk, the new parking structure will be the highest-dollar-value construction project in the airport's history. It's also the most visible of a series of TSP-designed efforts to enhance traveler experience while promoting safety for passengers and staff alike.
"We've invested a lot of resources into the terminal over the last 10 years, and people need to realize this is an ongoing effort," Letellier said. "It's important for us to take the next step so we're providing amenities and facilities that people expect of a growing community like Sioux Falls."
Here's a look ahead at multiple TSP-designed projects that will continue the airport's transformation — inside and out.