February 12, 2016
Good neighbors make good projects.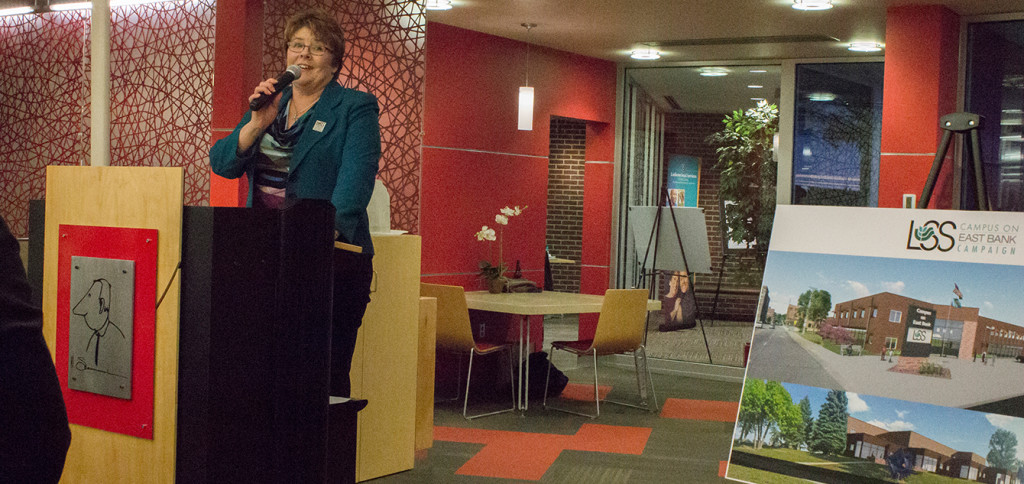 Partnership was the theme when TSP-Sioux Falls co-hosted the February Chamber of Commerce social mixer with our longtime clients from Lutheran Social Services of South Dakota. The night was a chance to celebrate the past 85 years of fulfilling work and to look to the future as we collaborate on a new venture with LSS.
Principal Architect Michelle Klobassa welcomed more than 300 guests during a brief program that highlighted the value of longlasting relationships. "It's a great feeling for us," Klobassa said. "Our work is really truly fulfilling when we're able to work with those clients and help them see their vision come to reality. It's a great thing to come to work every day and see those things happen."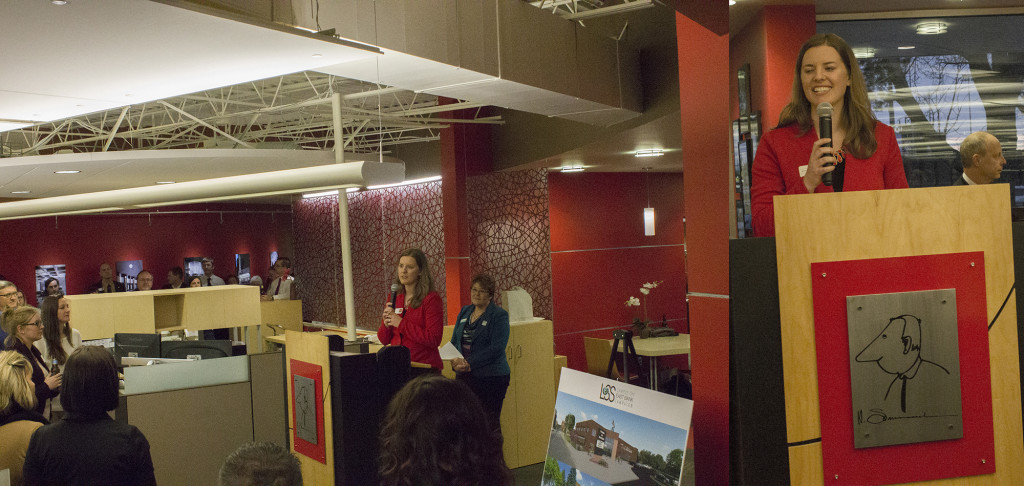 Klobassa reminded attendees of TSP's roots in the community, and then invited them to view the Legacy Wall during their visit. The new art installation tells TSP's story in the time it takes to walk around "The Square," with a different black-and-white photograph representing a landmark project from each decade of TSP's local work since 1930. Those strong ties carry through today, Klobassa said. She gave a few powerful examples of how TSP is serving some of those same clients well into the 2010s:
Firm founder Harold Spitznagel designed Gilbert Science Center for Augustana University in the 1960s, and now TSP is helping put science on display with the Froiland Science Center —a major renovation and addition to the Gilbert building.
Sioux Falls City Hall was Spitznagel's first major project, and in the past few years, TSP has planned and designed several renovations within the late art deco masterpiece to improve customer service and collaboration among City staff. Today, TSP and the City are creating the Midco Aquatic Center as a year-round amenity for the people of Sioux Falls.
The LSS "Campus on East Bank" of the Big Sioux River builds on a 15-year relationship to support that organization's multifaceted counseling programs and refugee services. TSP worked with LSS as leaders looked for the right place to consolidate local operations on a single campus. Our design will renovate the former Kilian Community College building as a new downtown home for LSS staff and clients. The $1.25 million Community Appeals portion of an overall $5.4 million capital campaign will officially kick off in April.
The joint TSP + LSS project "gives us a footprint that allows for future expansion as we grow and develop," Oldenkamp said. "It gives us the opportunity to provide services to the people who are in great need and maybe don't have great resources—as well as those of us who just maybe face an occasional challenge in our lives and need a little extra help through that point in time."
Oldenkamp drew a connection between LSS's 95 years in the community and TSP's own history as the two organizations have worked together for going on two decades. She also thanked the LSS board members and other volunteers, past and present, that she saw in the evening's audience. "You truly allow us to provide the service that we do in this community," she said. "We don't do this alone. We do this in partnership."