TSP's emerging leaders gain a stronger voice
Lucas Lorenzen felt he was on the cusp of something. The structural engineer was approaching midcareer, coming up on 15 years of experience.
It's a transitional time, when workers start taking stock of where they've been and wondering if staying with their current company can support all the things they want to achieve.
"It seems like that matches up with this growth curve for leadership," said Lorenzen, who's been with TSP Inc. in Sioux Falls for nearly six years.
It's longer than the 4.6-year national average that workers stay with one company, though not enough time for most employees to decide whether they'll embrace a path to becoming a partner or principal.
"Once that happens, you're invested long term," he said. "You've cemented your career in that spot. But what if you're not there yet? What place is there for a group of people from different areas of the company to gather and gain some real leadership experience without getting thrown into a role?"
Those questions rolled around in his head until he and a few colleagues from the multidisciplinary architecture, engineering, planning,and interior-design firm started discussing the topics while making the 90-minute drive home from another office.
The conversation's far-ranging subjects ultimately formed the basis for the Innovation Team. The internal proving ground now uses small, lower-risk experiments to test many different answers to the question "What if we ____?"
Membership is purely voluntary, but there is a push for diversity of location among TSP's five offices in three states. There's no set term after the first year. People can self-nominate, and the Innovation Team welcomes new members on a rolling basis. That flexibility helps attract a broad range of perspectives from people working in the firm's integrated design fields — as well as support professionals in design technology, project management and marketing.
The Innovation Team publishes a quarterly blog on the TSP intranet and meets twice a month to collaborate. Members also have a clear line of communication to recommend the most promising strategies and emerging tools to director of architecture Brian Johnson and director of engineering Darrell Bren.
"We're a grassroots group. We're the folks in the trenches, working in the business every day. We see things that the typical project-focused employee sees," electrical engineer Jake Buckmiller said.
"That includes any disconnects in processes or understandings from one discipline or role to another. We may not have the solution on our own, but we vet ideas out together and get to the point we can share a solid direction with the right people. I've had the opportunity to trial things out, and that was helpful. Not every idea is going to be a slam-dunk or even a success. But this is how we get there. It takes time and effort."
Graphic designer Mike Hay has found great reward in seeing ideas from the group implemented across the TSP footprint. Those improvements might be sourced organically from within the Innovation Team, or they might be generated when colleagues bring members a specific problem in need of a solution.
"When we have a chance to work through those issues with them, we've seen they take away a lot of what we develop with them," said Hay, who works in marketing. "It's really meshing a few ways of thinking and finding out there's more in common than we might have thought. We can look at all these areas and develop a better approach when we start from some different building blocks. We can make it better than it would be if we just had disparate groups with very different roles in the same company."
Design technician Evan Caldwell had been at TSP about a year when he joined the Innovation Team. Another production-focused member was cycling off the team, and Caldwell liked the continuity of filling that spot.
"It looked like a really good opportunity to get involved with the company beyond the work we do," he said. "I like what TSP does, and part of investing in the company is investing in pushing forward in various areas. I want to make sure that we're the company I would love to be working for 10 years from now, not just the company I enjoy working for now."
Kelli Osterloo, an electrical engineer in TSP's Rapid City office, was excited by the opportunity for midcareer employees to have a greater voice.
"Any company with different disciplines and offices needs a way to bring those pieces together on this level," she said. "I think the real benefit is that it allows us to vet new ideas from every direction and advance them in a bigger way. If we're looking at a new process, we have to ask if this will help only architects, or can we do it in a way that asking others to change will help every discipline? Every office? We're constantly asking if this is in the best interest of the company as a whole."
That mindset aligns with another big change that TSP has made since the Innovation Team's inception.
In 2019, after years of planning, the legacy firm transitioned to a new ownership structure: ESOP. The employee stock-ownership plan means TSP no longer is owned by a small group of leaders with principal, associate and shareholder-level financial interests. Instead, any TSP team member who has been with the company for one year has a path to ownership.
CEO Jared Nesje often reinforces these connections between accountability to the group and everyone's shared success: "We're in this together, and your slice of this pie matters."
That major shift removed the upfront, personal financial investment required for emerging leaders to become owners at TSP. The ESOP is a tax-qualified retirement plan that requires no out-of-pocket contribution from team members themselves. Beneficial ownership results from doing great work each day while designing and delivering quality projects that increase the firm's value.
In many ways, the ESOP is the natural evolution of a TSP core value that calls people to be committed to their craft, their clients and one another. The Innovation Team is a platform to encourage continual learning and to explore occasionally unconventional methods or adapt tactics that have worked in other industries.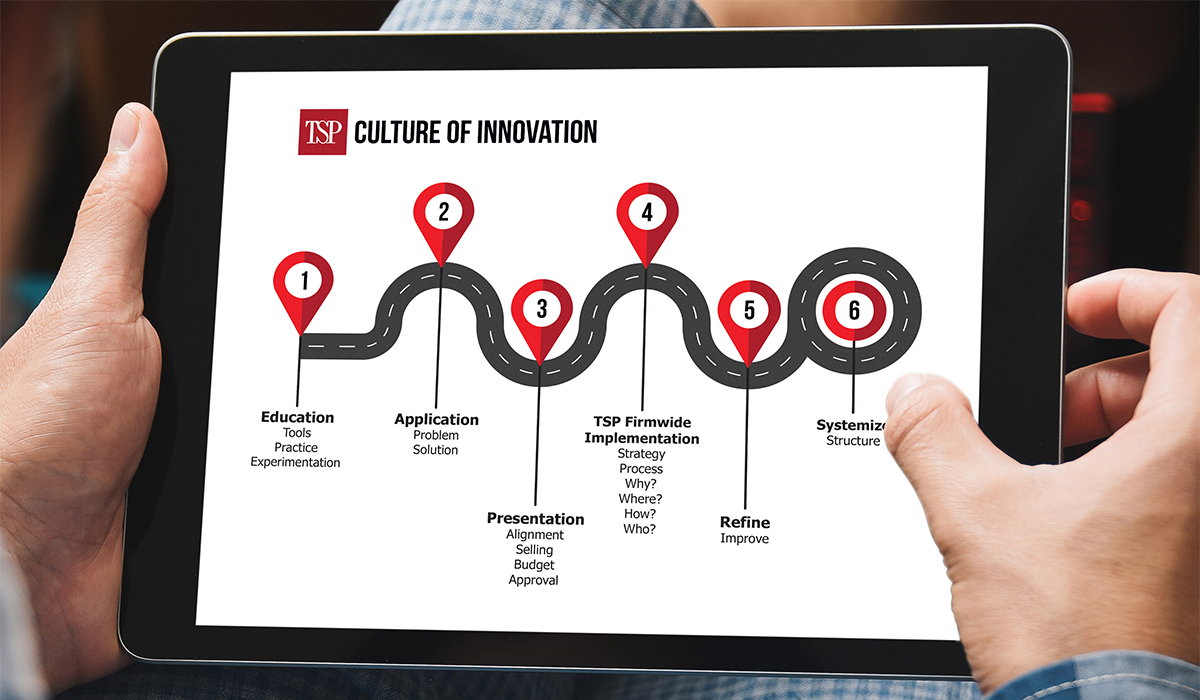 "If there's a group of people from different disciplines all making a push for something, it gets more momentum than if just one person was bringing it up on a project-by-project basis," Buckmiller said.
Architectural graduate Bret Holt came to TSP a little more than a year ago, making him newly eligible to take part in the ESOP. He jumped at the chance to join the Innovation Team.
"There were a couple pieces of technology that I had used previously in my career, and I really wanted to push the benefits of those and how we could use them in our work," he said. "One of those pieces was the 360-degree camera and embedding those images directly in our drawings."
Mechanical engineer Sidney Smith's entry to the Innovation Team came as she started work on an addition and renovation project for Horace Mann Elementary. The design effort served as a test case for a host of new processes that had been recently rolled out by project-management and operations leaders.
"That was the first project that applied all those new processes to a single design, including the project-team meeting guide and the project road map," Smith said. The project road map sequences all the design-related tasks necessary to coordinate the multidisciplinary effort, from visioning and programming through construction. "We wanted to see if standardizing all those tools actually saved time and money to make things run more smoothly."
The Horace Mann project team also integrated Microsoft Teams as a primary internal communication tool for documents and design discussions.
"We were really studying how we could use that to stay even more connected across the various disciplines," Smith said. The experience helped TSP see new benefits for implementing Microsoft Teams while enabling colleagues to familiarize themselves with features they hadn't explored. It set the behavioral groundwork for remote working, months before the COVID-19 pandemic hit.
Communication is key to TSP's highly collaborative process, and that extends to client involvement as well. It's why Caldwell emphasizes the Innovation Team isn't "just all about technology" — even though he's a design technician.
"That's the hammer and nails of what we do a lot of the time, and obviously we benefit when we can improve our processes. But that isn't our sole focus like it is for the AOG," he said, referring to the Architectural Operations Group. That practice-based team studies how the firm applies Revit software and other platforms to its building-information modeling work.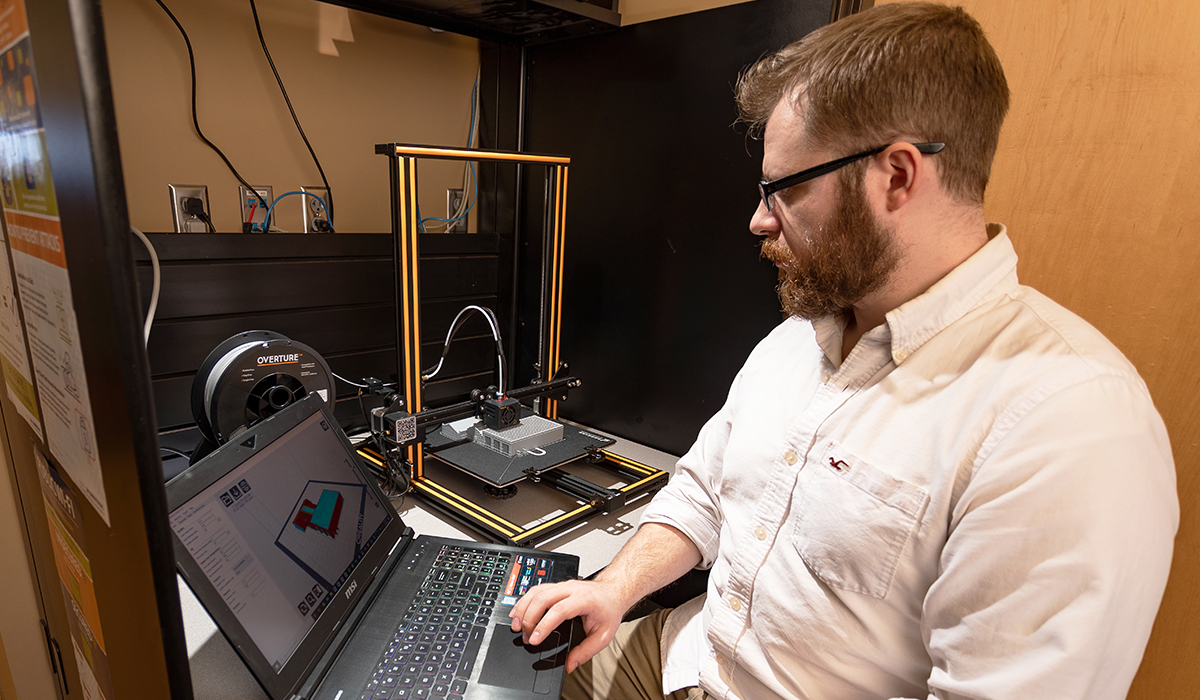 Caldwell wants colleagues to know they can come to him or any Innovation Team member with ideas — or with a request to join. "I suspect that going forward, the experience of having gone through the pandemic will lead to some conversations about sustaining some flexible home/office working arrangements," he said.
Smith notes other connections to TSP's developing employee brand and recruitment strategy. When Innovation Team members approached human resources manager Kari Kiesow about a benefits mix they thought would give the firm a competitive edge, they learned she'd been reassessing the existing package with a critical eye. "Some of our discussion hopefully reinforced up other things she was considering," Smith said.
Shortly afterward, TSP announced a new company-paid short-term disability plan that dovetailed with changes to the paid-absence program.
Lorenzen, who founded the Innovation Team with Hay and Osterloo, soon will hand over the group's leadership to a successor. The experience, though, has reaffirmed his understanding of how the firm operates — and his belief he belongs at TSP.
"I think now that I'm wrapping up my part on the Innovation Team, I realize the ups and downs and confusing challenges are what have made this so valuable," Lorenzen said.
"The issues and questions we've dealt with are totally different than what we're used to, just working on our projects. But I think it's probably similar to what being a principal or a member of the Operations Team is like. You have differing opinions from very different perspectives, and you have to make hard decisions about the best way forward for everyone. You can't be a leader just by title. And with ESOP, we all want to contribute by being better leaders in this company."