Community means a bit more today. You can see it in public spaces where people are gathering for a real summer. You can feel it on college campuses where staff are preparing for a full return to classes and activities this fall.
After more than a year of staying apart, we're beyond ready to reconnect in person. At TSP, Inc. the mission of "making our communities better, by design" never has felt more vital. The multidisciplinary firm's architects, engineers, planners, and interior designers have been hard at work with clients throughout the pandemic. Now, the employee-owned company is celebrating ribbon-cutting events, grand openings, and delayed open houses for new facilities where neighbors come to learn, heal, play, or simply be in the moment together.
Here's a "Top 10" list of recently completed and in-progress work—plus a bonus project: because summers in South Dakota are too short not to celebrate both of the TSP-designed outdoor pools that welcomed swimmers for the first time this Memorial Day weekend.
Municipal Pool | Brandon SD
TSP and Counsilman-Hunsaker (the team behind the Midco Aquatic Center) partnered again for some serious upgrades at the City of Brandon pool in Aspen Park. New features include waterslide towers, a wading pool and play structure with slides, an outdoor deck, shade canopies, concessions-area furnishings, and a pump house/mechanical building. Additional partners: Infrastructure Design Group, Confluence, Beck & Hofer Construction.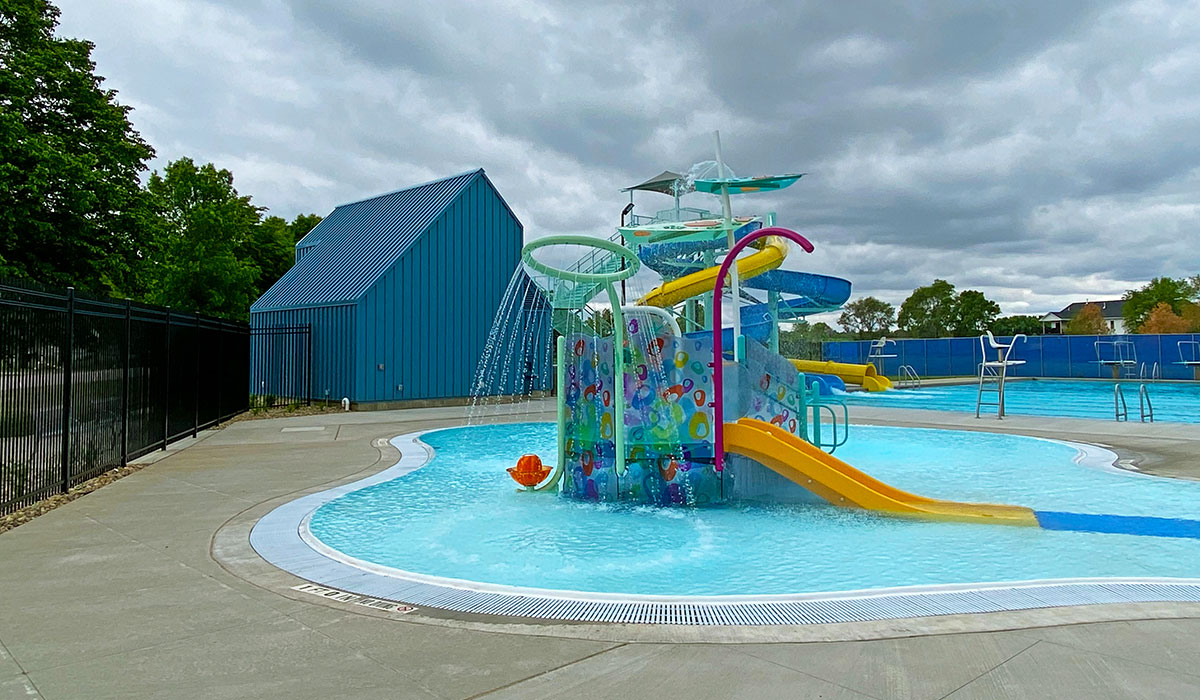 Augustana University South Residence Hall | Sioux Falls, SD
TSP is providing architectural support as well as mechanical, electrical, and structural engineering and construction-administration services for this three-story housing facility slated to open in Fall 2023. Sited just south of the renovated Fryxell Humanities Center (another TSP design), the residence hall will house up to 200 students in semi-suite groupings. It also will include community learning spaces for faculty, students, and affinity groups on campus. KWK Architects is the design firm of record. Additional partners: Mortenson, Infrastructure Design Group, Confluence.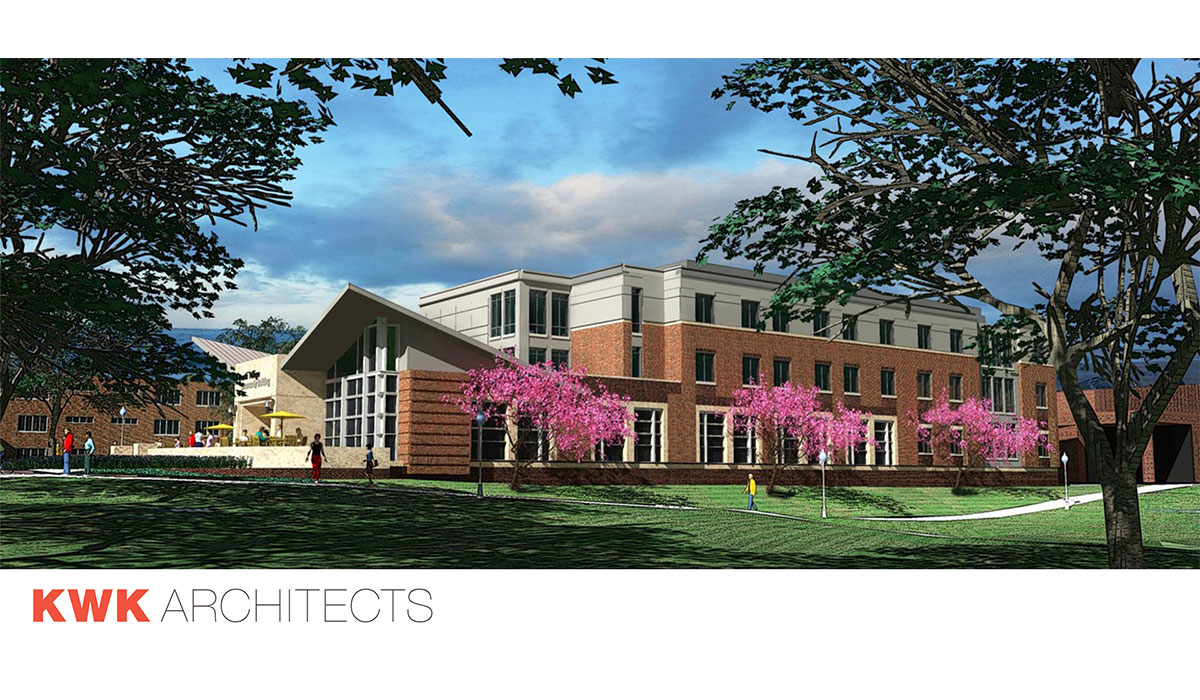 Bramble Park Zoo Animal Care Building | Watertown, SD
Watertown's city-owned zoo is a local gem that's a favorite for families as well as field-trip groups from neighboring school districts. TSP guided leaders through a master-plan update to take stock of existing assets, study the grounds' layout and traffic flow, and forecast future needs for various exhibits. The Animal Care Building is the first new structure built under the plan update. TSP created architectural and engineering (M/E/S) designs for the roughly 4,100 sf facility, which includes indoor pens, a quarantine area, a zoo kitchen, and space for the staff veterinarian. Additional partners: Crestone Builders, Aason Engineering.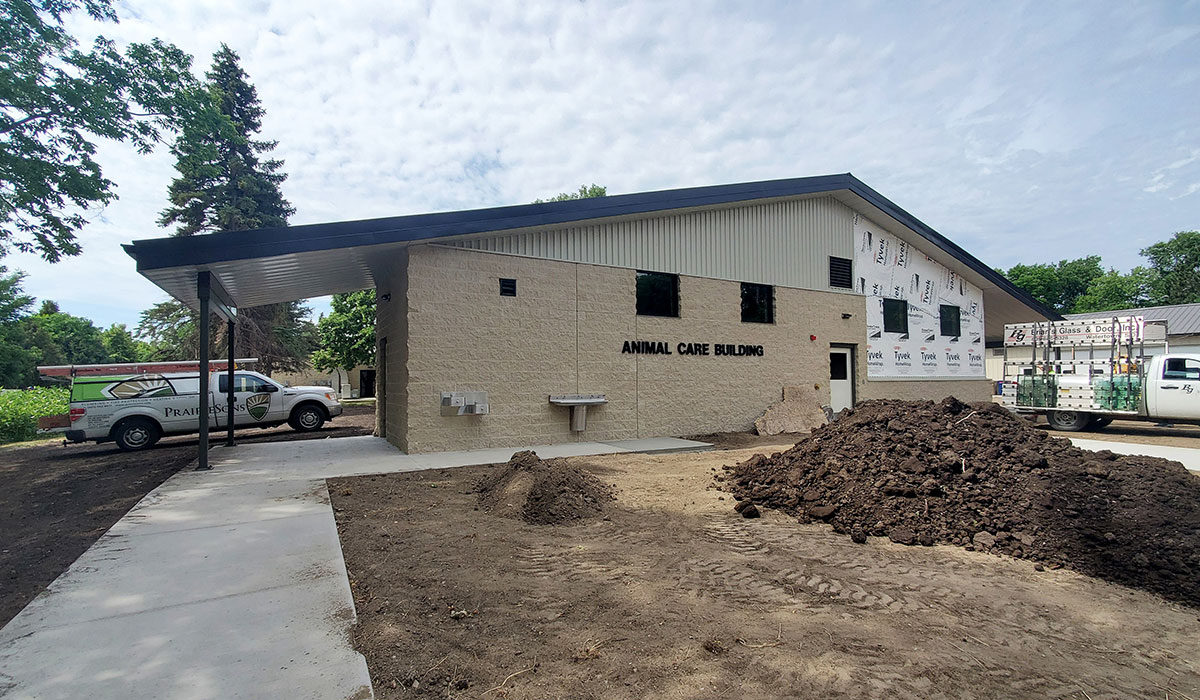 Monument Health 5th Floor ICU Expansion | Rapid City, SD
TSP architects and engineers (M/E) collaborated with patient-care staff and hospital leadership to renovate and expand an Intensive Care Unit on the fifth floor of the southwest tower pod. The project transformed the spaces from standard medical/surgical patient rooms into six upsized, acuity-adaptable ICU rooms—each with a patient lift, extra oxygen lines, and negative-air-pressure HVAC-system capabilities to give the greatest degree of flexibility. Additional partner: Gustafson Builders.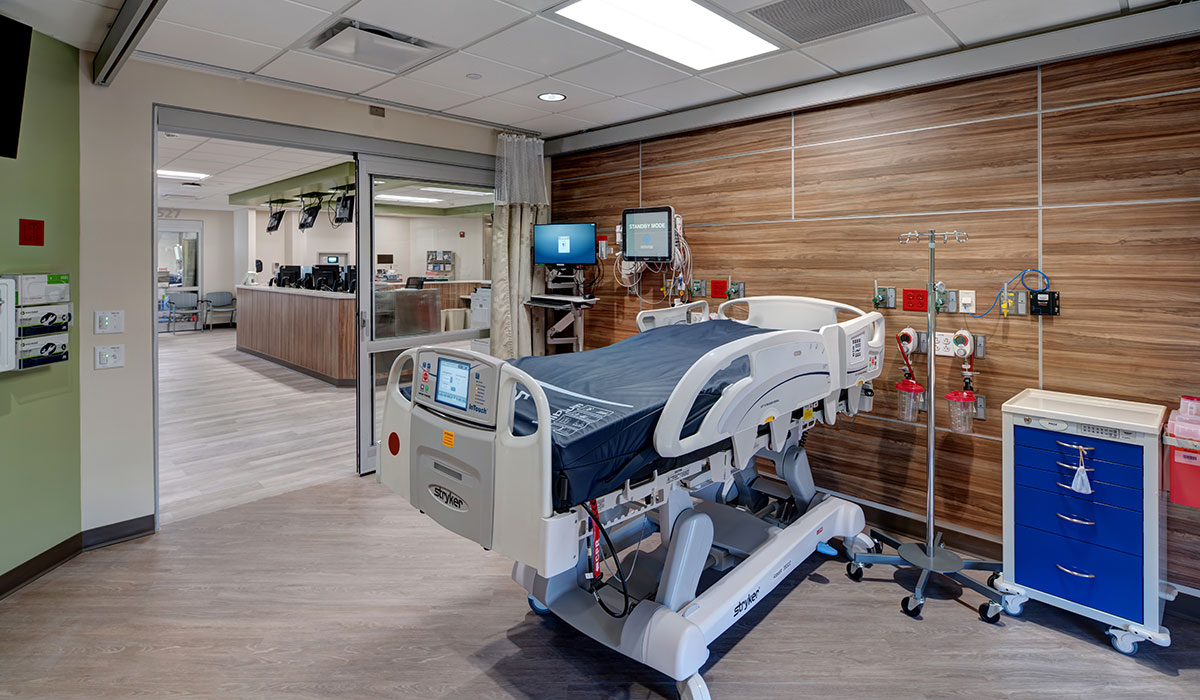 South Dakota State University American Indian Student Center | Brookings, SD
TSP gathered input from enrolled members of the region's tribes to incorporate meaningful imagery and modern functionality in this new home-away-from-home for students of indigenous heritage. The nearly 12,000 sf building is the most visible pillar of the Wokini Initiative, a multifaceted effort to uplift opportunities in higher education. TSP architects, engineers (M/E/S), and interior designers collaborated with cultural design consultant Dennis Sun Rhodes of Great Horse design studio to subtly infuse Native influences. The high-performance building earned LEED Gold certification for sustainable strategies. Additional partners: Clark Drew Construction, Banner Associates, Confluence, Catalyst Partners, Energy Studio.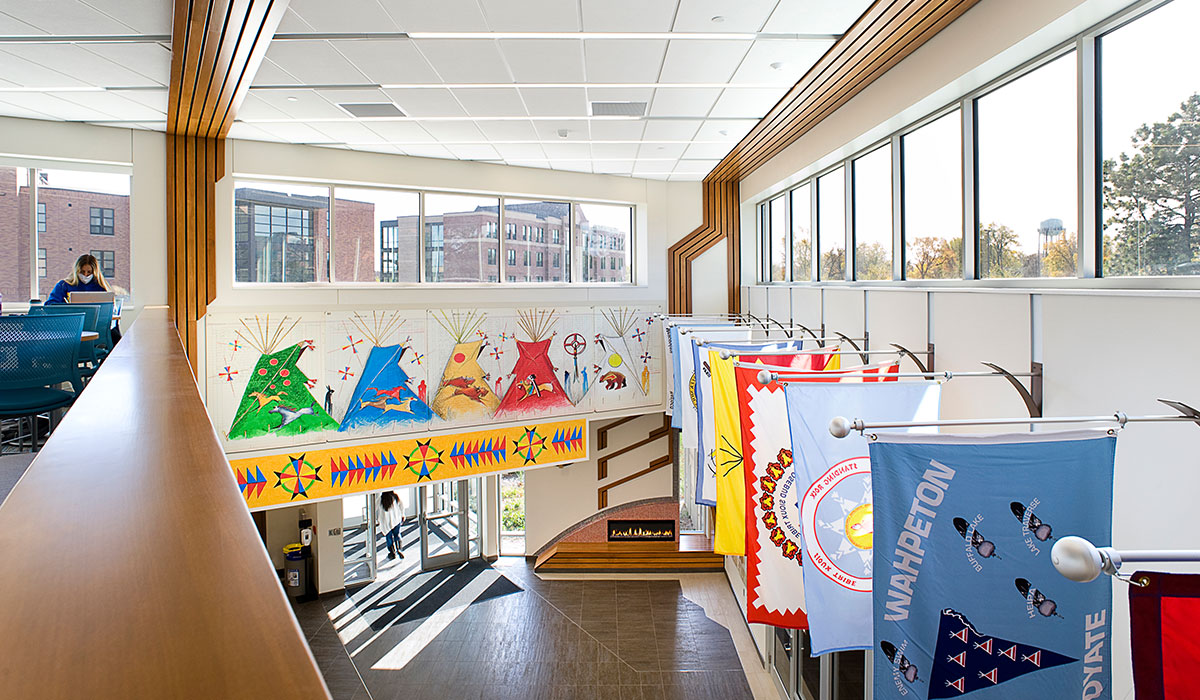 Sioux Falls Regional Airport Concourse Renovation | Sioux Falls, SD
This interior renovation will align finishes and features in the concourse—the upper-level areas beyond the security checkpoint—with those in the TSP-designed lobby and baggage-claim projects completed in recent years. Passengers will see new floor- and wall-coverings, plus new gate counters, lighting sconces, and sales-display cabinets in the main corridor. A family toilet room with a universal changing table will make traveling easier for those with young children or adults who need assistance with self-care. Additional partner: Sunkota Construction.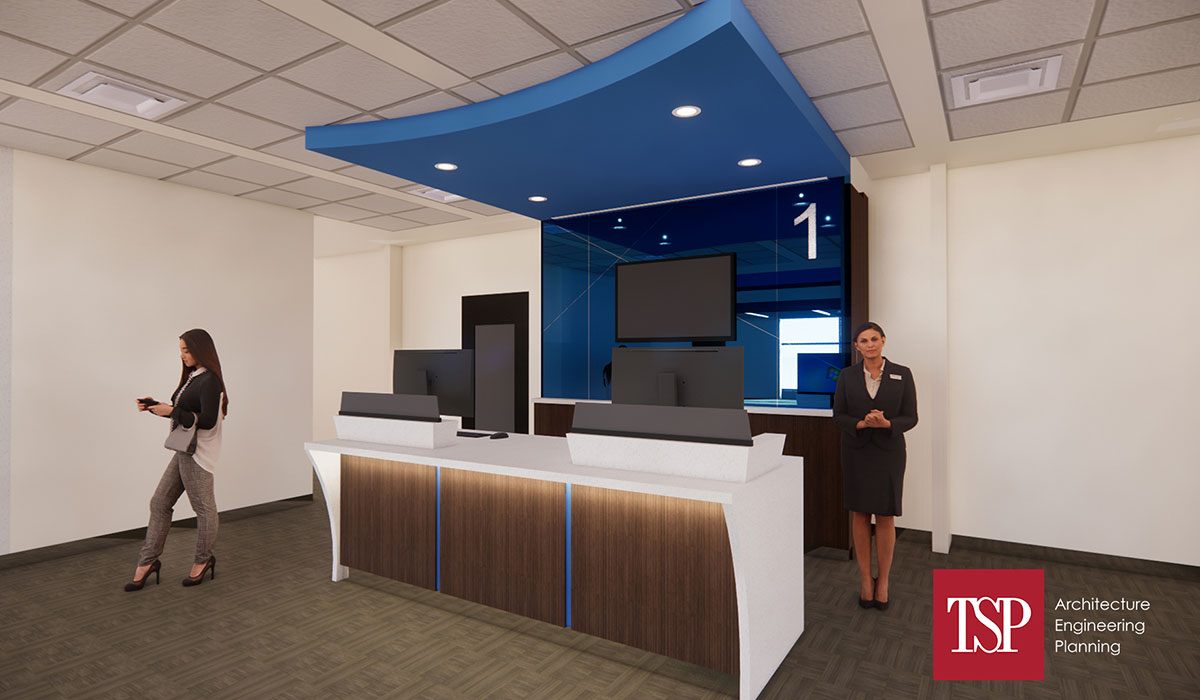 Southeast Technical College Veterinary Technician Program | Sioux Falls, SD
This addition/renovation project at the Ed Wood Trade & Industry Center was part of a larger effort to expand and remodel multiple campus offerings (including the dental and electrical programs as well as the office serving admissions and financial aid). The veterinary facility includes a surgical suite, full X-ray room, and a clinical-skill lab including six wet and dry exam tables. It's designed to give students a constructive learning environment while mirroring the equipment and workflows used by most veterinary offices. Additional partners: Jans Corporation, Animal Arts Design Studios, Sayre & Associates.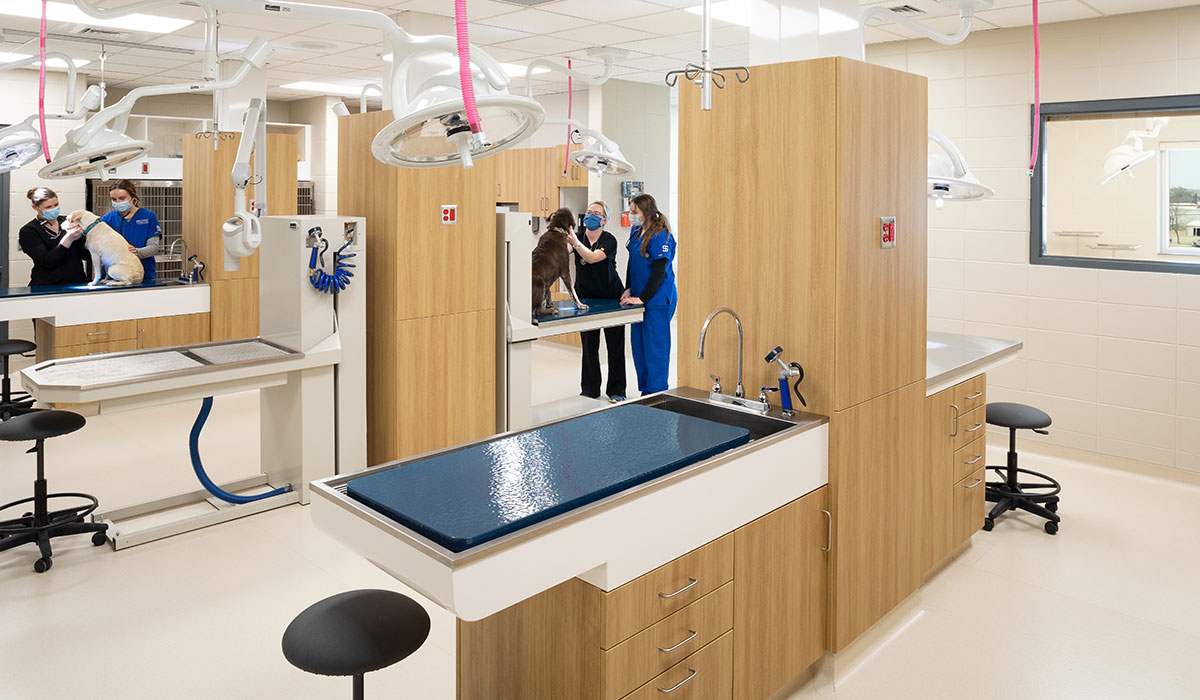 Sturgis Brewing Company | Sturgis, SD
Owners at this growing craft-beer company turned to TSP when they decided to rebrand and expand their facility. The new facility will enable the brewery to dramatically upscale its production capacity to roughly 200 times the current level. Indoor and outdoor spaces take advantage of the surrounding Northern Black Hills, with scenic views from nearly every area of the tap room and restaurant. A warehouse, kitchen, and gift shop will complete the brewery's new home. Additional partners: RCS Construction, Affordably Creative Engineering Services, H-C Design & Consulting.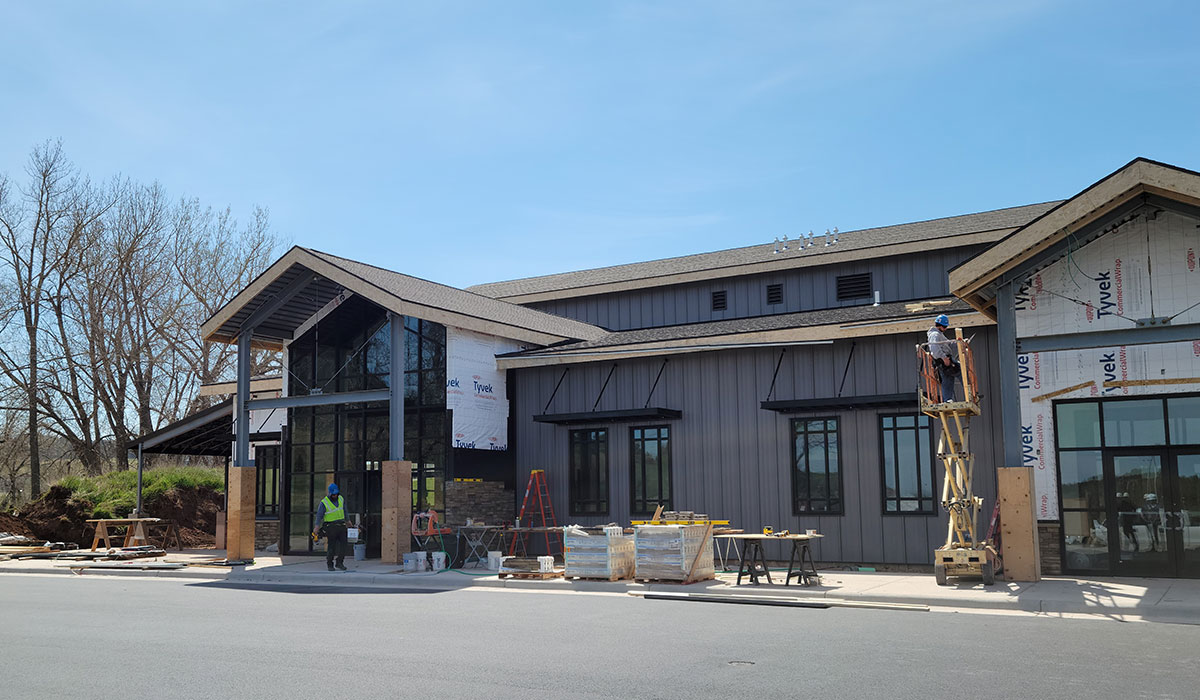 Sanford Health Clinic & Lewis Drug | Harrisburg, SD
Footings are in and structural-steel walls soon will take shape at this combination primary-care clinic and retail pharmacy—a first for Harrisburg. The building at the northwest corner of Cliff Avenue and Willow Street will include 16,000 sf of space. That's enough for 24 clinical exam rooms and two procedure rooms, with eight providers offering appointments and walk-in visits for several specialties: family medicine, pediatrics, women's health, and obstetrics. The facility also will comprise on-site lab and radiology services such as ultrasounds and 3D mammography. Lewis Drug will occupy about 4,000 sf to offer patients a one-stop shop. Additional partners: Fiegen Construction, Stockwell Engineers.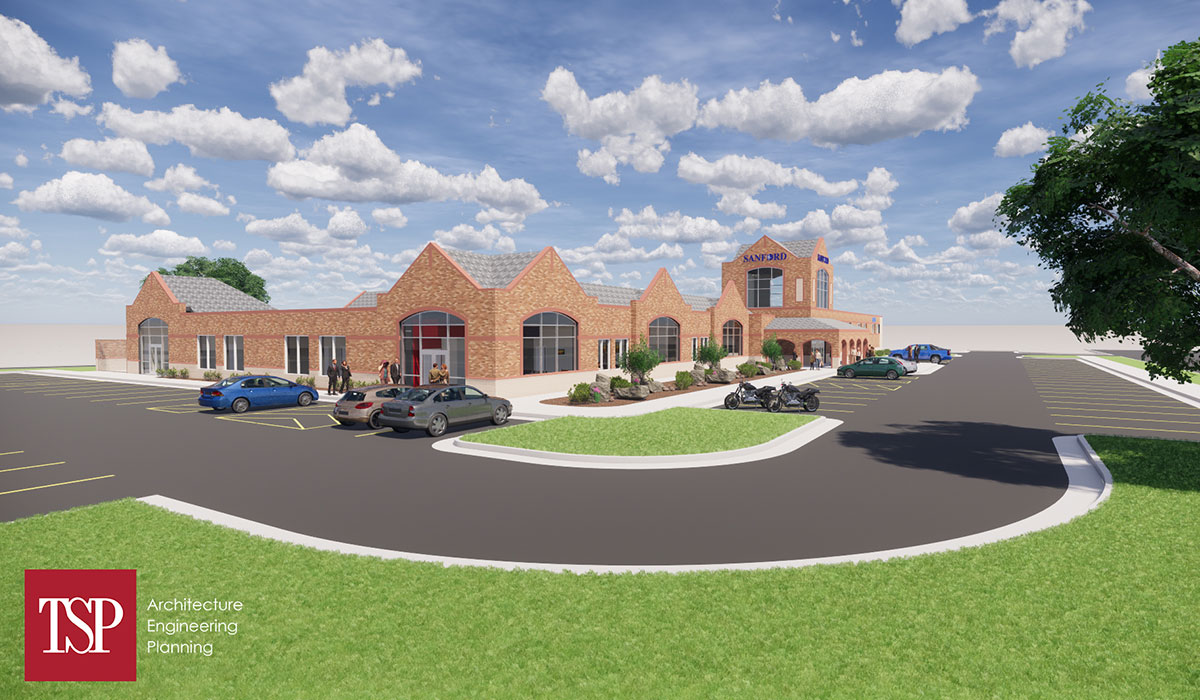 Northern State University Jewett Regional Science Education Center | Aberdeen, SD
Collaboration pods cantilever over a walkway along State Street in this community learning center that provides modern labs for collegiate biology, chemistry, physics, and biomedical sciences. Every lab has a front entry from the primary hallway system and a rear door that accesses a shared research/prep lab. An ecological-studies greenhouse adds visual interest as field-grip groups approach via the bus drop-off loop and enter through an outdoor courtyard framed by the L-shaped building. The facility is the latest TSP + Smithgroup design serving South Dakota campuses. The high-performance building earned LEED Silver certification for sustainable strategies. Additional partners: Kyburz/Carlson Construction, NV5.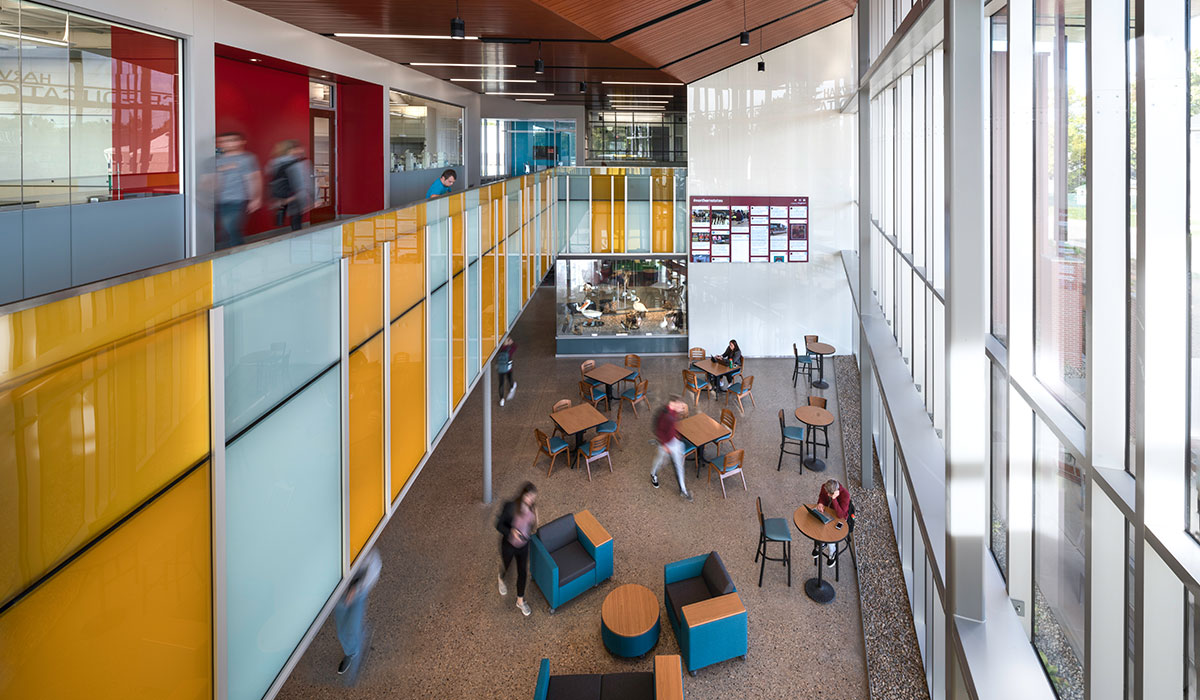 Huether Family Aquatics Center | Yankton, SD
Designed with lead partners from Stockwell Engineers, this all-new facility replaced an aging municipal pool. The outdoor complex now offers a lazy river, zero-depth entry children's pool, tube and body slides, splash pad, competition pools, diving boards, a climbing wall, and basketball hoops. Parks & Recreation Department officials anticipate that when June's numbers are in, the aquatics center already will have smashed the full-season attendance record at the former 70-year-old pool. Additional partner: Welfl Construction.